The biggest and heaviest birds that have ever existed
Today, probably every child will say without hesitation that the heaviest bird in the world is the African ostrich, and… he/she will be right. The ostrich is currently the heaviest and largest bird, although unfortunately it cannot fly. It belongs to the flightless species. In the history of the Earth, however, the ostrich was neither the tallest nor the heaviest bird, although in terms of height it was close to its tallest ancestors. A lot of questions from our readers contributed to the creation of this list, because although we already have the largest birds in the world, today we will go back to history and compare it with modern species.
The maximum weight of a bird is 500 kg (1,100 lb)?
Looking at the list below, it is clear that nature has limited the maximum weight of flightless birds to 500 kg. None of the so far discovered species has exceeded this weight, although its relatives (dinosaurs moving on two legs) easily reached the weight exceeding even 10 tons…
An update
2018 brought the verification of this thesis. Paleontologists have determined that the Vorombe titan belonging to the elephant birds could weigh up to 730 kg (1,168 lb)!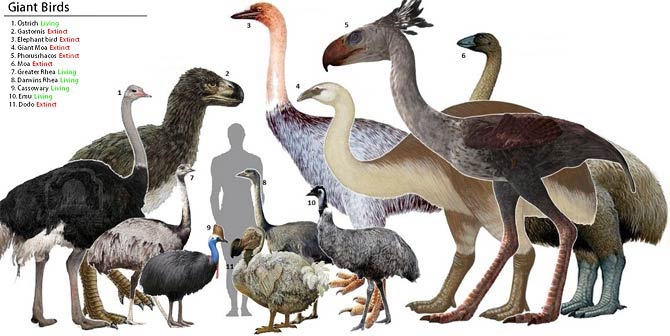 The largest and heaviest birds that have ever existed TOP 10
Recommended