Haast's eagle (Harpagornis moorei)
Many centuries ago lived a king of the present-day eagles, which however did not survive to our times. All the more the Haast's eagle deserves to be noted by as many animal lovers as possible for its habits and, unfortunately, a sad ending of its rule in the world of majestic birds.
Classification
Class: Aves
Order: Accipitriformes
Family: Accipitridae
Genus: †Harpagornis
Species: †Harpagornis moorei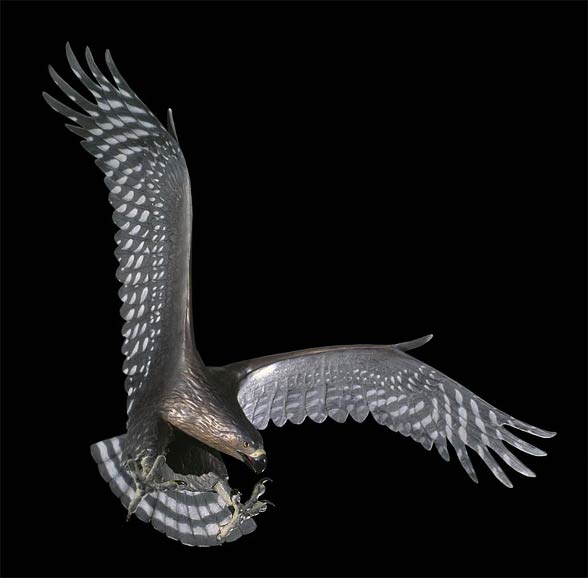 Areas of occurrence and dating
Haast's eagle inhabited the South Island, New Zealand's largest island, yet it could also live on the North Island. Its reign was long, but not eternal, for it lived from the Pleistocene epoch until the modern age (from 2 million to about 500-600 years ago).
In those times the majority of the island was covered with forests, and as the remains of this eagle were found precisely in the woodlands, it is presumed that it had made forests, or edge of forests, its home. Such a theory may be proven by the shortened wing bones, which suggest that this animal adapted to a densely wooded environment.
This is why its wings, withal impressive, are not as enormous as many fans might expect. But remember that it is not the wingspan that makes a crowned eagle the mightiest warrior among birds of prey, but its character – and, most likely, same applies to the king of all eagles – the Haast's eagle.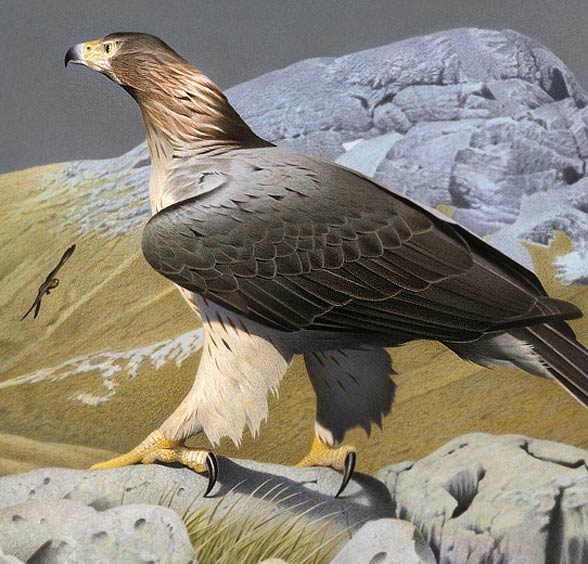 Characteristics
Size
The Haast's eagle is labeled the largest known eagle of all time, it was even bigger than today's vultures. Females were considerably larger than males, they weighed 10 – 15 kg (22–33 lb), while males' weight ranged from 9 to 12 kg (20–26 lb). Although it was one of the largest birds in the world it had a relatively small wingspan: female wingspan was about 260 cm (8ft 6in), reaching a maximum of 3 m (9ft 10in), so in that matter, it was comparable to the wedge-tailed eagle (Aquila audax), golden eagle (Aquila chrysaetos), steppe eagle (Aquila nipalensis), martial eagle (Polemaetus bellicosus), or the Steller's sea eagle (Heliaeetus pelagicus).
However the largest, or even ordinary present-day vultures (Gypinae) or condors most likely have a wider wingspan than this extinct eagle. The total body length of a female was around 130-140 cm (4ft 3in – 4ft 7in), while its height was about 90 cm (2ft 11in) or slightly more.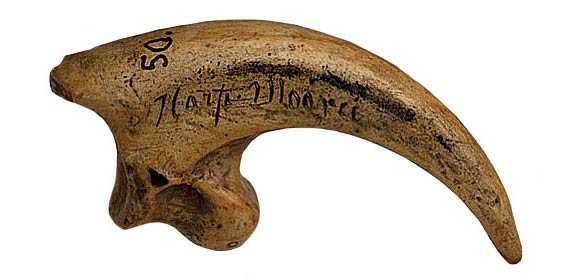 Claws
The size and strength of legs equipped with great claws indicate that it was an effective predator able to kill a really sizeable animal, for its largest claw was 9-11 cm (3.5in – 4.3in) long, so it was similar to a harpy eagle's (Harpia harpyja) in terms of size.
Thanks to massive claws and strong leg muscles the eagle took off by jumping from the ground, despite its hefty body mass.
Tail
Besides the legs and claws, the tail was also long and wide, a female's tail could measure over 50 cm (20 in), which compensated for relatively short wings, increasing the lift force.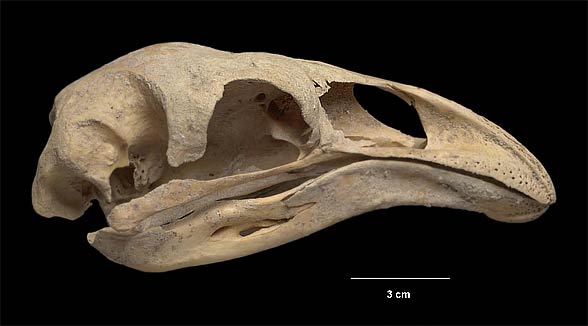 Coloration
Its coloration remains a mystery until today, though many artistic variations on the matter were created. Some claim that Haast's eagle could have looked like an ornate hawk-eagle (Spizaetus ornatus), which, like most tropical birds, is more colorful than the moderate climate birds.
It is worth stressing that most of New Zealand's birds do not have a bright coloration, therefore a majority of experts predict that it was most likely dark brown or brown-grey, similarly to other large forest eagles from all over the world.
The only eagle at the top of the food chain
Haast's eagle was the only known eagle to be an apex predator in its ecosystem.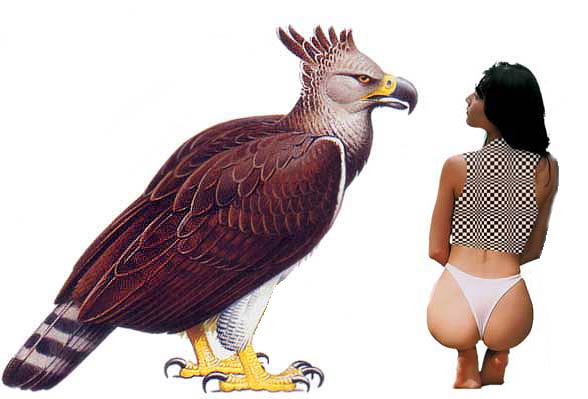 Diet and hunting style
Haast's eagle hunted for other large birds. Before the colonization of New Zealand, the fauna was dominated by them – many lead a terrestrial lifestyle; moa (Dinornithiformes) was the largest flightless bird – the world's greatest bird of all time weighing around 200-249 kg (440 – 548 lb) and reaching 360 cm (12ft) of height. Besides moa, this eagle often ate other flightless birds: takahēs (Porphyrio hochstetteri), wekas (Galliralus australis), and adzebills (the Aptornis genus).
Haast's eagle also hunted for geese and ducks. Owing to its size and agility it could easily kill a human. It is estimated that it rushed towards prey with a velocity reaching 80 km/h (50 mph) catching the victim's pelvis with strong claws of one leg, bashing the victim's head repeatedly, or breaking its neck, with the other one in order to quickly kill the target.
The massive beak was used to cut flesh and pierce internal organs, so the captured animal could die of blood loss.
In the areas inhabited by the Haast's eagle there were no large predators nor scavengers, so this bird could safely store a few days reserve of food.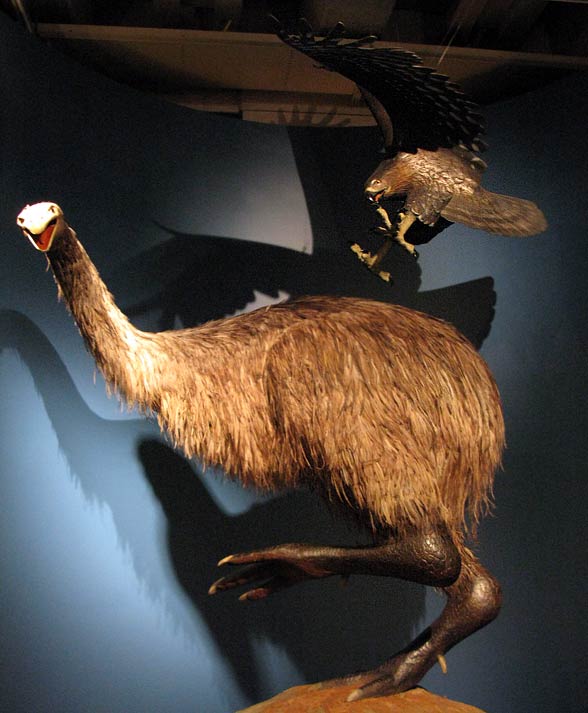 When did the Haast's eagle become extinct?
New Zealand's first settlers, Maori people, came to the islands circa 1280 and hunted mostly for the flightless birds, including moa, which eventually leads to the extinction of those birds. As the main element of Haast's eagle diet disappeared, the predator was doomed and become extinct in the XV century, when the last moa was wiped off the surface of the Earth.
One of the researchers, Charles Edward Douglas living in the XIX and XX century, wrote in one of his publications that he encountered two giant birds of prey in the Landsborough river valley which were subsequently shot and eaten by him. It is possible that those could be the last specimen of Haast's eagle, though skeptics claim that the species could not have survived 500 years without a sufficient amount of food. Therefore many stated that Douglas has seen another species – Circus eylesi – the largest harrier in the world, though it is considered to have become extinct long before.
Cats and rodents were brought to New Zealand during the last colonization. As it is widely known, birds were the most abundant population on the island, among mammals only 3 species of bats were found, one of which has recently become extinct. It was until then that birds, from lack of competition and other dangers, dominated every New Zealand's ecological niche, for the eggs and chicks were not threatened by large predators. Moa was 'grazing' on the island like deer or cattle, but the appearance of human hunters destabilized the ecosystem.
Population
The total Haast's eagle population is estimated to be around 3,000-4,500 breeding pairs.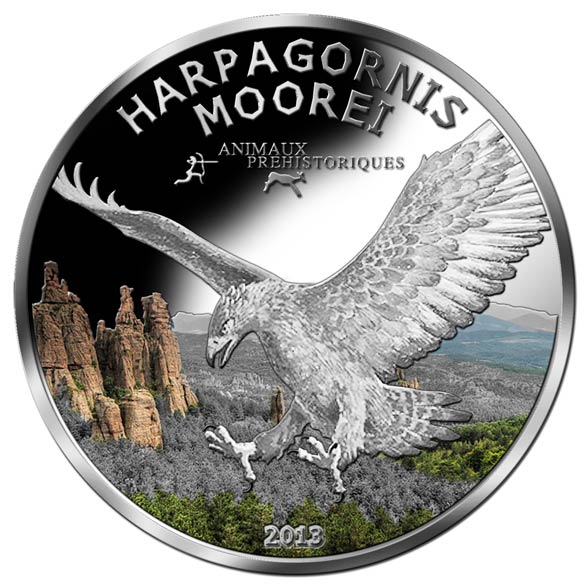 Detailed characteristics / size
Haast's eagle (Harpagornis moorei)
Body length: 130 – 140 cm (4ft 3in – 4ft 7in)
Height: 90 cm (2ft 11in)
Wingspan: 260-300 cm (8ft 6in – 9ft 10in)
Body weight:

females: 10 – 15 kg (22–33 lb), (17.8 kg?/ 39 lb?)
males: 9 – 12.3 kg (20–27 lb)

Skull length: 15 cm
The length of the largest claw: 9 – 11 cm (3.5in – 4.3in)
Tail length: up to 50 cm (4.7in)
Tarsus length: 22.7 – 24.9 cm (9 – 9.8 in)
Lower mandible length: 11.4 cm (4.5 in)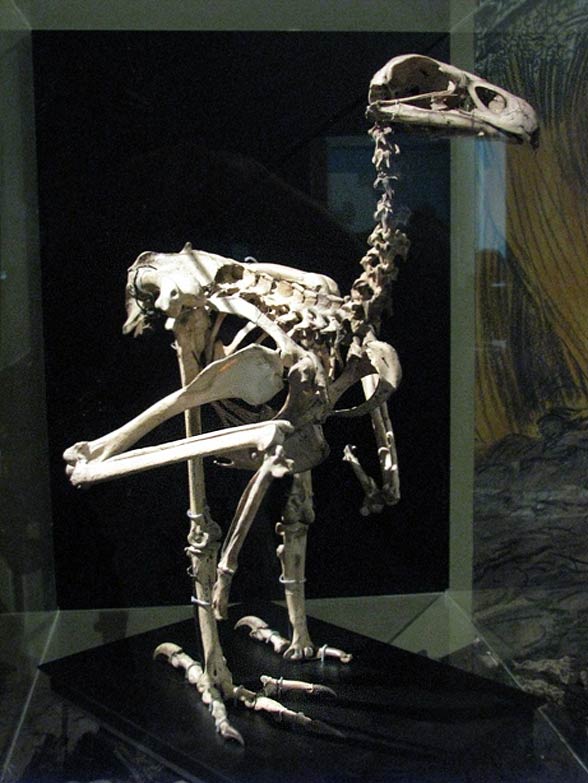 Haast's eagle – interesting facts
This eagle was primarily described by Julius von Haast in 1870, and given the binomial name Harpagornis moorei, in recognition of George Henry Moore, the owner of Estate Glenmark – the place where this species' remains were found.
The generic name is derived from the Greek harpax – 'hook' and ornis -'bird'.
In the Maori language, the Haast's eagle was called Hikioi or Pouakai, which means 'an old glutton' ;).
Other names for the Haast's eagle are: New Zealand eagle, giant eagle.
Haast's eagle was the largest eagle ever to be discovered.
The largest present-day eagles do not exceed 9 kg (20 lb) of body mass in the wild, which means they are 40% lighter than the Haast's eagle.
The Haast's eagle skeleton suggests that its closest relative was the little eagle (Hieraaetus morpnoides) and not, as it was previously assumed, the much larger wedge-tailed eagle.
The length of the largest talon is comparable to a tiger's claw.
The Philippine eagle (Pithecophaga jefferyi) could adapt to a new environment like the Haast's eagle, for both species evolved from smaller ancestors, but due to island gigantism and lack of large carnivorous mammals and other predators, both the Philippine eagle and Haast's eagle were in a perfect situation to thrive.
Haast's eagle is sometimes falsely presented as a flightless bird due to its sizeable weight.
The flightless moa, which was often hunted by the Haast's eagle, was about 15 times as heavy as the eagle.
The enormous size of the eagle could be an evolution's response to the size of its prey.
Haast's eagle was significantly smaller (weight and wingspan) than Argentavis – the largest flying species known to mankind.
The main photograph pictures the golden eagle.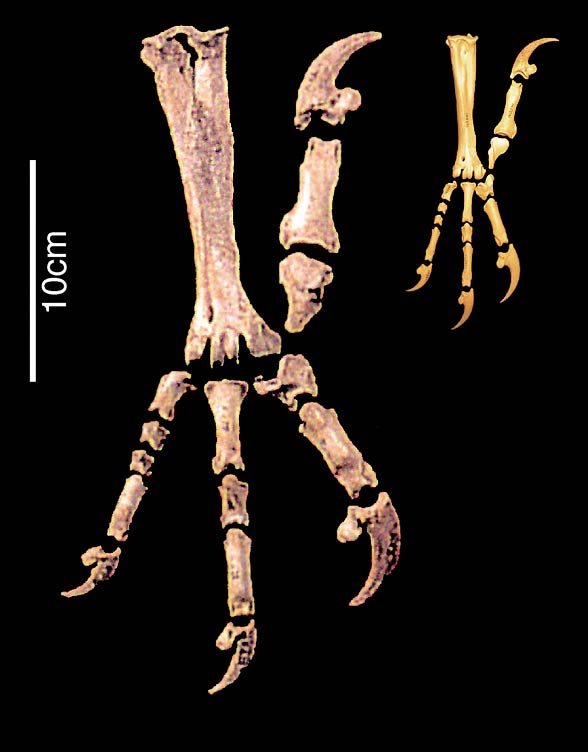 Recommended