The heaviest dinosaurs – Top 10
The largest and heaviest dinosaurs – Top 10

What was the largest creature ever to walk the earth?
Certainly, it was a dinosaur, and certainly a sauropod. Perhaps the biggest sauropods were the biggest creatures that ever existed, beating even the blue whale (record specimens measure more than 33 meters (110 feet), and the weight comes to 190 tons).
Data presented below are inaccurate. Statement is based on the currently known excavations and estimates. Along with new discoveries estimated dimensions and weight may change.
The biggest, truly known dinosaur, was Argentinosaurus. However, there are a few lesser-known candidates for the title of the biggest creation such as Amphicoelias or Sauroposeidon.

The largest and heaviest dinosaurs – TOP10
Amphicoelias fragillimus: 100–150 t
Argentinosaurus huinculensis: 50–90 t
"Antarctosaurus" giganteus: 69–80 t
Apatosaurus sp.: 36–80 t
Giraffatitan brancai: 15–78 t (new estimates 23.3–40 t)
Notocolossus: 45–76 t
Mamenchisaurus sinocanadorum: 75 t
Sauroposeidon proteles: 40–60 t
Dreadnoughtus schrani: 59.3 t
Paralititan stromeri: 20–59 t
Unnamed (MPM-PV-39): 58 t
Brachiosaurus altithorax: 28.7–56.3 t
Turiasaurus riodevensis: 48–50.9 t
Puertasaurus reuili: 50 t
Ruyangosaurus giganteus: 50 t
Futalognkosaurus dukei: 38.1–50 t
Camarasaurus supremus: 9.3–47 t
Elaltitan lilloi: 42.8 t
Diplodocus hallorum ("Seismosaurus"): 30–42.5 t
Tehuelchesaurus benitezii: 41.3 t
Apatosaurus louisae: 16.4–41.3 t
Supersaurus vivianae: 35–40.2 t
Alamosaurus sanjuanensis: 32.7–35.2 t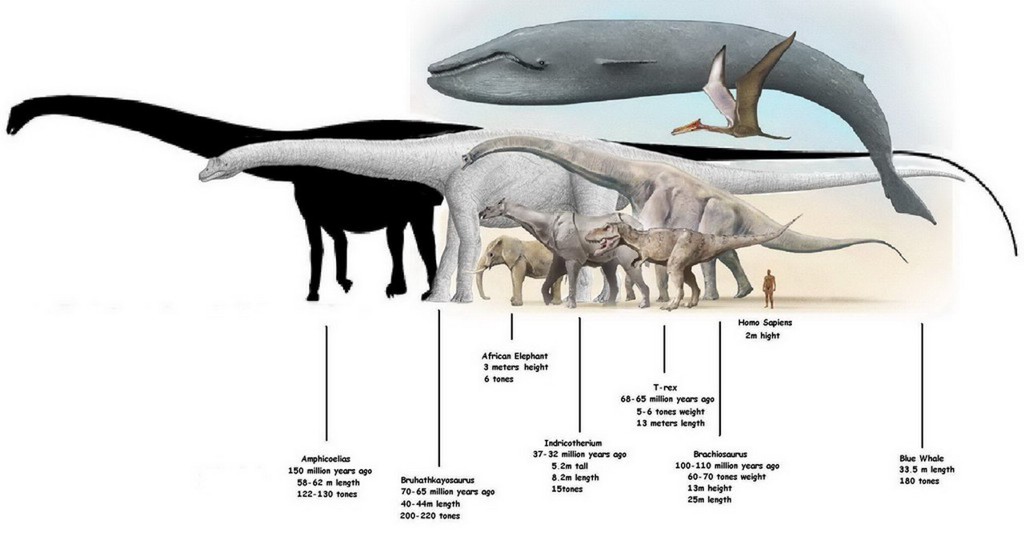 Suggested