Great Pyrenees – Chien de Montagne des Pyrénées
This sweet, white "bear" can touch the heart of every dog lover. However, do not forget that underneath this slightly frosting coat, there is a giant with a strong personality, incredible courage and great independence. The Great Pyrenees needs an owner like him, who will understand his needs and, most importantly, will be able to satisfy him.
FCI Classification
Group 2. Pinscher and Schnauzer-type dogs, Molossoids and mountain dogs, and Swiss mountain dogs.
Section 2.2 Molossoids, mountain type.
Without working trial
Other names: Great Pyrenees, Chien de Montagne des Pyrénées, Patou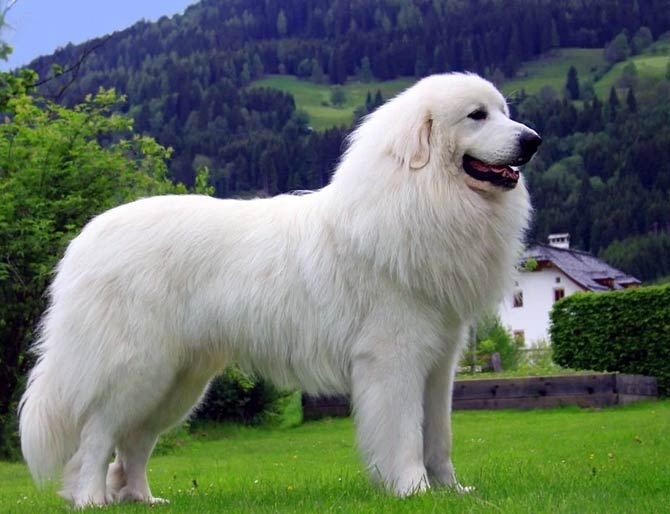 History of the breed
This very old breed was known as far back as the Bronze Age. For hundreds of years, it collaborated with Basque shepherds who lived in the Pyrenees region from southern France to northern Spain. One of the first descriptions of these dogs dates back to 1407, and a few hundred years later, in 1675, they became the favorites of Louis Bourbon.
The nineteenth century, on the other hand, opened the door to other regions of France, where the Pyrenean Mountain Dog works as a sheep guardian on steep slopes.
At the end of the 19th century, there was no breed standard yet, but two subtypes were registered: Western and Eastern. Both resemble other large, white European shepherd and herding dogs, such as Maremmano-Abruzzese Sheepdog, Kuvasz, Akbash Dog, and Tatra Shepherd Dog.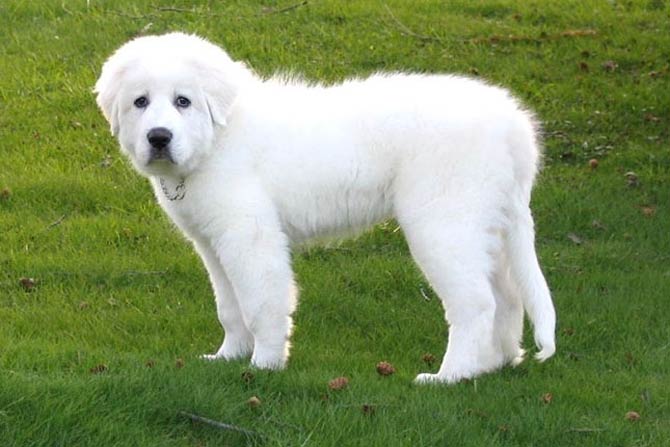 Characteristic
Appearance
Due to its purpose, the Pyrenean Mountain Dog is adapted to difficult weather conditions. The coat consists of two layers: a long, close-fitting, straight or slightly wavy, thick topcoat and a soft, feathery undercoat.
The most hairy is the neck and shoulders, so in these areas, you can see a characteristic mane/ruff. In males, it is more impressive, it acts as a protection against a large predator, e.g. a wolf. The tail looks like a plume, all because of a long, profuse hair; a similar effect is seen on the limbs. The mouth and ears are covered with a short coat.
Within the breed, the predominant color is white, but there are also gray, red varieties and dark mouth, ears and tail. The white coat may also have gray patches known as badgers or wolf spots. With age, lemon or light brown shade may appear around the ears and face. The color of the nose, eye frame, and lips should be black.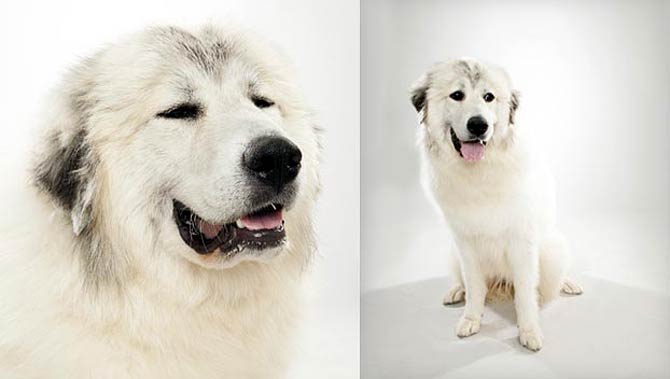 Temperament
The Pyrenean Mountain Dog is self-confident by nature, but also affectionate and patient, especially with children. As a guardian of the herd, however, it is a territorial animal with an instinct to protect its charges. However, a well-mannered dog is not aggressive, but calm and loyal.
It has a strong personality, behavioral independence and courage. Because it is powerful but gentle with small animals or humans, it becomes a wonderful guardian. It has the need to constantly patrol the area, so when released from a leash, it can wander far away over a large area. It protects its charges with its voice.
It is very active at night, constantly looking for potential threats, so it reacts to the softest, extraneous sound with loud, bass barking. However, if we want to unlearn this behavior, it can be done with proper training.
However, the Pyrenean Mountain Dog is not very eager to learn, because it can be stubborn and independent, and for this reason it is quite low in the ranking of dog intelligence.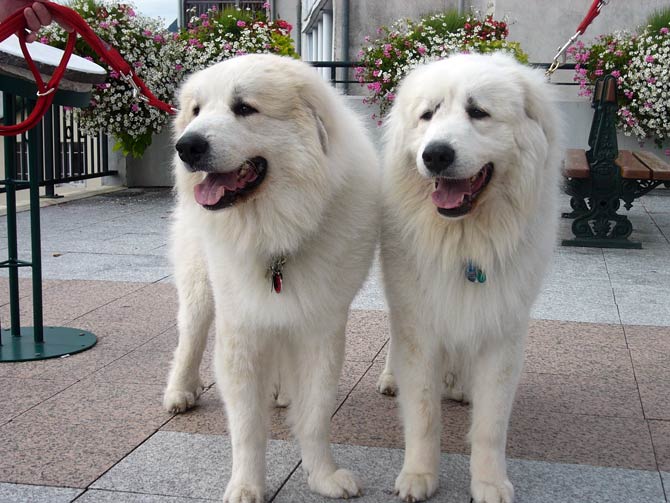 Strong personality
However, this does not change the fact that the Pyrenean Mountain Dog is a strong personality dog that deserves respect – it is a breed devoted to its owner, extremely loyal and faithful. However, it shows distrust towards strangers, but if a person it does not know is well received by the owners, the Great Pyrenees quickly becomes convinced of such a person. Thanks to its great qualities, the dog continues to be employed as a guard and shepherd on farms and ranches.
A small apartment is out of the question…
In a small apartment in the city, it will not feel very well, because it likes contact with nature and space. Although it likes to spend time at home with the owner, it is very "drawn" to nature. Therefore, it needs a large yard, because even in winter, it will spend a lot of time outside the house. It also requires long daily walks, preferably in meadows or fields.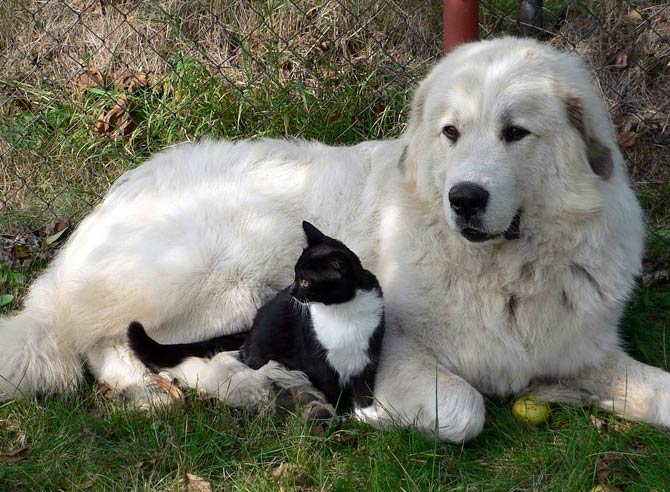 Health condition
Pyrenean Mountain Dog does not suffer from genetic diseases, but due to its size, it suffers from diseases related to bones and joints. Therefore, hip dysplasia is often encountered within the breed. To avoid obesity, it must not be allowed to gluttony. You should also enrich its diet with vitamins and substances that help in bone development.
It is also important to take care of the thick Pyrenean hair – it requires careful brushing at least once a week. One should not forget about baths, thanks to which its coat will have a nice, luminous shade.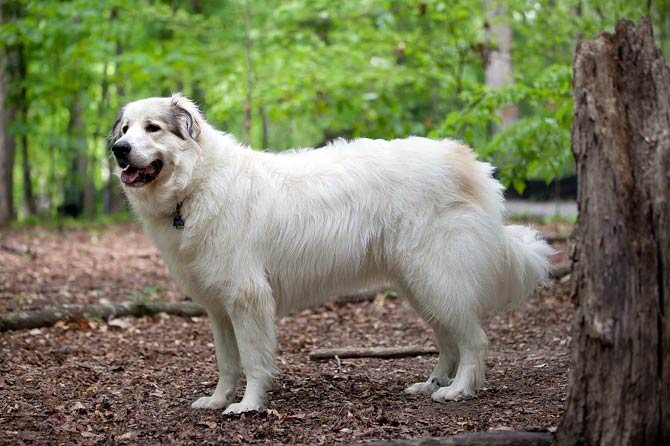 Detailed data and dimensions (size)
Pyrenean Mountain Dog
Height at the withers:

dogs: 70 – 82 cm (28 – 32 in)
female dogs: 65 – 75 cm (26 – 30 in)

Weight:

dogs: 55-75 kg (121 – 165 lb)
female dogs: 36-41 kg (79 – 90 lb)

Lifespan: 10-11 years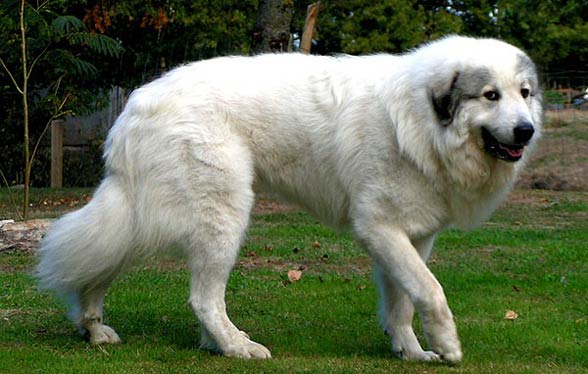 Pyrenean Mountain Dog – interesting facts
According to the American Pyrenean Mountain Dog Club, the breed is the most active at night and aggressive towards any predators that may harm the herd. However, in relation to gentle and small animals, it shows an innate guardian instinct.
A unique feature of Pyrenean Mountain Dogs is the double dewclaw on their hind legs, although there are also individuals with a double dewclaw on their forelegs.
Breeders of the breed in the Pyrenees collect the fur shed by dogs and create very good quality sweaters from them.
Pyrenean Mountain Dog was placed 64th in the ranking of dog's intelligence prepared by Stanley Coren.
In the film series Belle and Sebastian (French: Belle et Sébastien), the role of Belle is played by the Pyrenean Mountain Dog.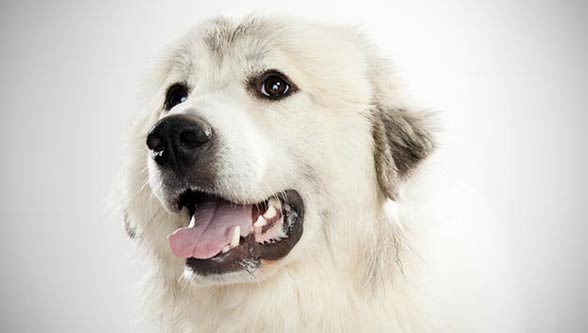 Recommended