The heaviest ornithopods – Top 10
The early ornithopods were only about 1 meter (3 feet) long, but probably very fast. They had a stiff tail, like the theropods, to help them balance as they ran on their hind legs. Later ornithopods became more adapted to grazing on all fours; their spines curved, and came to resemble the spines of modern ground-feeders such as the bison.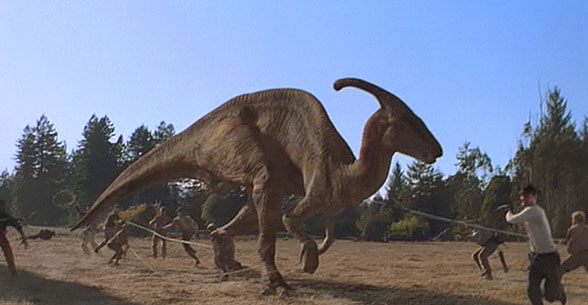 As they became more adapted to eating while bent over, they became semi-quadrupedal; still running on two legs, and comfortable reaching up into trees; but spending most of their time walking or grazing while on all fours.
Later ornithopods became larger, but never rivalled the incredible size of the long-necked, long-tailed sauropods that they partially supplanted. The very largest, such as Shantungosaurus, were as heavy as medium sized sauropods at up to 23 metric tons (25 short tons) but never grew much beyond 15 metres (50 feet).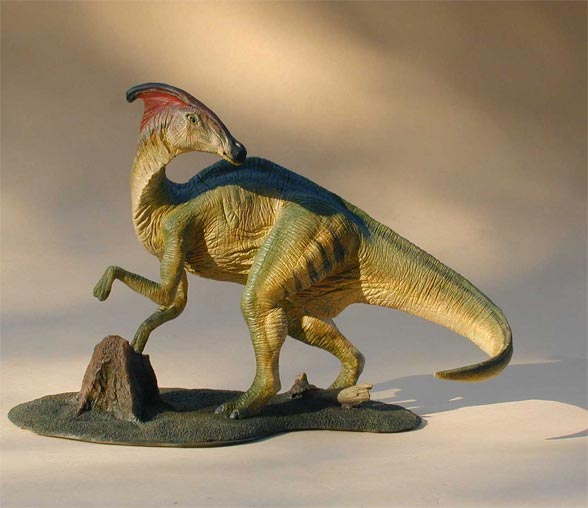 The heaviest ornithopods – Top 10
Magnapaulia laticaudus: 12–23 t
Shantungosaurus giganteus: 9.9–22.5 t
Iguanodon seeleyi: 15 t
Barsboldia: 12 t
Saurolophus angustirostris: 6.6–9 t
Iguanodon bernissartensis: 8.3–8.6 t
Edmontosaurus annectens (Anatotitan): 3.2–7.6 t
Brachylophosaurus canadensis: 4.5–7 t
Saurolophus osborni: 6.6 t
Lanzhousaurus magnidens: 6 t
Parasaurolophus walkeri: 3–5.1 t
Charonosaurus jiayinensis: 5 t
Barsboldia sicinskii: 5 t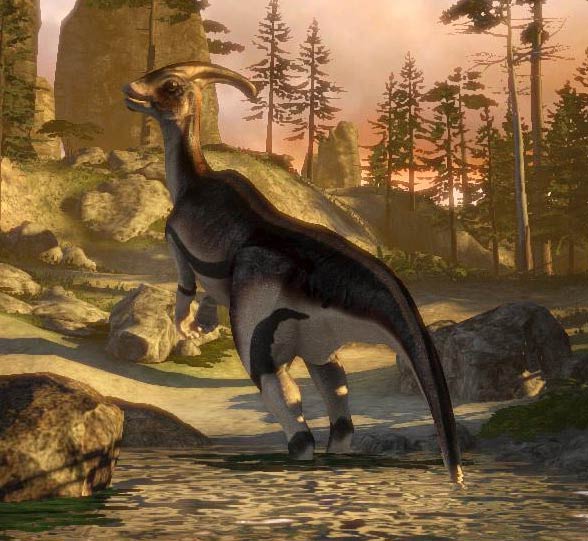 The heaviest ornithopods Top 10
update AD 2020

| | | | | |
| --- | --- | --- | --- | --- |
| No | Dinosaur | Weight [t] | Weight[kg] | Weight [lb] |
| 1 | Shantungosaurus giganteus | 16.5 t | 16 500 kg | 36 376 lb |
| 2 | Edmontosaurus annectens | 14.5 t | 14 500 kg | 31 967 lb |
| 3 | Barsboldia sicinskii | 13.3 t | 13 300 kg | 29 321 lb |
| 4 | Hypsibema crassicauda | 11.0 t | 11 000 kg | 24 251 lb |
| 5 | "Hadrosaurus" breviceps | 10.0 t | 10 000 kg | 22 046 lb |
| 6 | "Trachodon" longiceps | 9.1 t | 9 100 kg | 20 062 lb |
| 7 | Saurolophus angustirostris | 9.0 t | 9 000 kg | 19 842 lb |
| 8 | Magnapaulia laticaudus | 9.0 t | 9 000 kg | 19 842 lb |
| 9 | Iguanodon bernissartensis | 8.5 t | 8 500 kg | 18 739 lb |
| 10 | Parrosaurus missouriensis | 7.5 t | 7 500 kg | 16 535 lb |
| 11 | Charonosaurus jiayinensis | 6.8 t | 6 800 kg | 14 991 lb |
| 12 | Edmontosaurus regalis | 6.6 t | 6 600 kg | 14 551 lb |
| 13 | Amurosaurus riabinini | 6.2 t | 6 200 kg | 13 669 lb |
| 14 | Lanzhousaurus magnidens | 6.0 t | 6 000 kg | 13 228 lb |
| 15 | Ornithotarsus immanis | 5.6 t | 5 600 kg | 12 346 lb |
| 16 | Hypacrosaurus stebingeri | 5.5 t | 5 500 kg | 12 125 lb |
| 17 | Probrachylophosaurus bergei | 5.4 t | 5 400 kg | 11 905 lb |
| 18 | Shuangmiaosaurus gilmorei | 5.4 t | 5 400 kg | 11 905 lb |
| 19 | Hypacrosaurus altispinus | 5.3 t | 5 300 kg | 11 685 lb |
| 20 | Parasaurolophus tubicen | 5.3 t | 5 300 kg | 11 685 lb |
| 21 | Delapparentia turolensis | 5.1 t | 5 100 kg | 11 244 lb |
| 22 | Iguanacolossus fortis | 5.0 t | 5 000 kg | 11 023 lb |
| 23 | Yunganglong datongensis | 4.7 t | 4 700 kg | 10 362 lb |
| 24 | Saurolophus osborni | 4.5 t | 4 500 kg | 9 921 lb |
| 25 | Tsintaosaurus spinorhinus | 4.5 t | 4 500 kg | 9 921 lb |
| 26 | Datonglong tianzhenensis | 4.5 t | 4 500 kg | 9 921 lb |
| 27 | Barilium dawsoni | 4.3 t | 4 300 kg | 9 480 lb |
| 28 | Brachylophosaurus canadensis | 4.2 t | 4 200 kg | 9 259 lb |
| 29 | Kritosaurus navajovius | 4.2 t | 4 200 kg | 9 259 lb |
| 30 | Gryposaurus alsatei | 4.2 t | 4 200 kg | 9 259 lb |
| 31 | "Iguanodon" orientalis | 4.1 t | 4 100 kg | 9 039 lb |
| 32 | Corythosaurus casuarius | 4.1 t | 4 100 kg | 9 039 lb |
| 33 | Secernosaurus koerneri | 3.7 t | 3 700 kg | 8 157 lb |
| 34 | Anasazisaurus horneri | 3.6 t | 3 600 kg | 7 937 lb |
| 35 | Magnamanus soriaensis | 3.5 t | 3 500 kg | 7 716 lb |
| 36 | Prosaurolophus maximus | 3.5 t | 3 500 kg | 7 716 lb |
| 37 | Olorotitan arharensis | 3.5 t | 3 500 kg | 7 716 lb |
| 38 | Lurdusaurus arenatus | 3.5 t | 3 500 kg | 7 716 lb |
| 39 | Parasaurolophus cyrtocristatus | 3.4 t | 3 400 kg | 7 496 lb |
| 40 | Plesiohadros djadokhtaensis | 3.4 t | 3 400 kg | 7 496 lb |
| 41 | Bayannurosaurus perfectus | 3.2 t | 3 200 kg | 7 055 lb |
| 42 | Mandschurosaurus amurensis | 3.2 t | 3 200 kg | 7 055 lb |
| 43 | Parasaurolophus walkeri | 3.2 t | 3 200 kg | 7 055 lb |
| 44 | Adelolophus hutchisoni | 3.1 t | 3 100 kg | 6 834 lb |
| 45 | Gryposaurus notabilis | 3.1 t | 3 100 kg | 6 834 lb |
| 46 | "Hadrosaurus" cavatus | 3.0 t | 3 000 kg | 6 614 lb |
| 47 | Augustynolophus morrisi | 3.0 t | 3 000 kg | 6 614 lb |
| 48 | Muttaburrasaurus langdoni | 3.0 t | 3 000 kg | 6 614 lb |
| 49 | "Brachylophosaurus" goodwini | 3.0 t | 3 000 kg | 6 614 lb |
| 50 | Corythosaurus intermedius | 3.0 t | 3 000 kg | 6 614 lb |
| 51 | Gryposaurus latidens | 3.0 t | 3 000 kg | 6 614 lb |
| 52 | Sirindhorna khoratensis | 3.0 t | 3 000 kg | 6 614 lb |
Recommended