Pterosaurs with largest wingspan – Top 10

Pterosaurs were flying reptiles but not flying dinosaurs. They lived 162 mln years from the late Triassic to the end of the Cretaceous Period – 228 to 66 million years ago. Pterosaurs were the earliest vertebrates known to have evolved powered flight. Their wings were formed by a membrane of skin, muscle, and other tissues stretching from the ankles to a incredible lengthened fourth finger.
Pterosaurs spanned a wide range of adult sizes, from the very small Nemicolopterus (with a wingspan of about 250 mm (10 in)) to the largest known flying creatures of all time, including Quetzalcoatlus and Hatzegopteryx.
The largest pterosaurs – update year 2022

| | | | |
| --- | --- | --- | --- |
| Rank | Pterosaur | Wingspan [m] | Wingspan [ft] |
| 1 | Hatzegopteryx thambema | 10.00 | 32.81 |
| 2 | Quetzalcoatlus northropi | 10.00 | 32.81 |
| 3 | Arambourgiania philadelphiae | 9.30 | 30.51 |
| 4 | Cryodrakon boreas | 9.20 | 30.18 |
| 5 | Thanatosdrakon amaru | 8.60 | 28.22 |
| 6 | Tropeognathus mesembrinus | 8.30 | 27.23 |
| 7 | Tupandactylus imperator | 7.50 | 24.61 |
| 8 | Nicorhynchus capito | 7.40 | 24.28 |
| 9 | Geosternbergia maysei | 7.20 | 23.62 |
| 10 | Uktenadactylus wadleighi | 6.70 | 21.98 |
| 11 | Barbaridactylus grandis | 6.60 | 21.65 |
| 12 | Thapunngaka shawi | 6.50 | 21.33 |
| 13 | "Anhanguera" robustus | 6.40 | 21.00 |
| 14 | Pteranodon longiceps | 6.40 | 21.00 |
| 15 | Aralazhdarcho bostobensis | 6.30 | 20.67 |
| 16 | Iberodactylus andreui | 6.30 | 20.67 |
| 17 | "Pricesaurus megalodon" | 6.30 | 20.67 |
| 18 | Volgadraco bogolubovi | 6.30 | 20.67 |
| 19 | Maaradactylus kellneri | 6.20 | 20.34 |
| 20 | Pteranodon ingens | 6.10 | 20.01 |
| 21 | Alanqa saharica | 6.00 | 19.69 |
| 22 | Coloborhynchus clavirostris | 6.00 | 19.69 |
| 23 | Maaradactylus spielbergi | 5.90 | 19.36 |
| 24 | Aerotitan sudamericanus | 5.80 | 19.03 |
| 25 | Uktenadactylus rodriguesae | 5.70 | 18.70 |
| 26 | Albadraco tharmisensis | 5.50 | 18.04 |
| 27 | Amblydectes crassidens | 5.50 | 18.04 |
| 28 | Mythunga camara | 5.50 | 18.04 |
| 29 | Geosternbergia sternbergi | 5.40 | 17.72 |
| 30 | Quetzalcoatlus lawsoni | 5.40 | 17.72 |
| 31 | Anhanguera piscator | 5.20 | 17.06 |
| 32 | Pterodactylus woodwardi | 5.20 | 17.06 |
| 33 | Liaoningopterus gui | 5.00 | 16.40 |
| 34 | Phosphatodraco mauritanicus | 5.00 | 16.40 |
| 35 | Pteranodon umbrosus | 5.00 | 16.40 |
| 36 | Tethydraco regalis | 5.00 | 16.40 |
| 37 | Araripedactylus dehmi | 4.90 | 16.08 |
| 38 | Santanadactylus brasilensis | 4.90 | 16.08 |
| 39 | Simurghia robusta | 4.80 | 15.75 |
| 40 | "Anhanguera" araripensis | 4.70 | 15.42 |
| 41 | Anhanguera blittersdorffi | 4.60 | 15.09 |
| 42 | "Anhanguera" santanae | 4.60 | 15.09 |
| 43 | Arthurdactylus conandoylei | 4.60 | 15.09 |
| 44 | Dawndraco kanzai | 4.60 | 15.09 |
| 45 | Siroccopteryx moroccensis | 4.50 | 14.76 |
| 46 | Afrotapejara zouhri | 4.40 | 14.44 |
| 47 | Bogolubovia orientalis | 4.30 | 14.11 |
| 48 | Istiodactylus latidens | 4.30 | 14.11 |
| 49 | Pteranodon velox | 4.30 | 14.11 |
| 50 | Alamodactylus byrdi | 4.20 | 13.78 |
Previous statements
The largest pterosaurs – update year 2018
| | | |
| --- | --- | --- |
| No | Pterosaur | Wingspan [m] |
| 61 | Piksi barbarulna |                      1.0 |
| 60 | "Ornithocheirus" bunzeli |                      1.5 |
| 59 | Hell Creek pteranodontian |                      1.5 |
| 58 | Nyctosauridae KJ1 |                      1.7 |
| 57 | Alcione sp. |                      1.8 |
| 56 | Nyctosauridae KJ2 |                      2.0 |
| 55 | Alcione (small morph) |                      2.1 |
| 54 | DPP small azhdarchid (TMP 1982.16.303, humerus) |                      2.4 |
| 53 | Pui Beds Azhdarchid |                      2.4 |
| 52 | Alcione elainus |                      2.4 |
| 51 | Montanazhdarcho minor |                      2.5 |
| 50 | Lance Formation azhdarchid |                      2.5 |
| 49 | Kaiparowits Azhdarchid |                      2.8 |
| 48 | Nyctosaurus bonneri (FHSM 2148) |                      2.9 |
| 47 | Eurazhdarcho langendorfensis |                      3.0 |
| 46 | Fox-Amphoux azhdarchid |                      3.0 |
| 45 | Iharkut azhdarchid |                      3.3 |
| 44 | Lano azhdarchid |                      3.3 |
| 43 | Zhejiangopterus linhaiensis |                      3.5 |
| 42 | Navajodactylus boeri |                      3.5 |
| 41 | Bogolubovia orientalis |                      3.5 |
| 40 | Bakonydraco galaczi |                      3.8 |
| 39 | DPP medium azhdarchid (TMP 87.36.16, metacarpal IV) |                      3.8 |
| 38 | Miria formation azhdarchid |                      3.8 |
| 37 | Nyctosaurus gracilis (YPM 2395) |                      3.9 |
| 36 | Barbaridactylus grandis |                      4.0 |
| 35 | Nyctosaurus lamegoi |                      4.0 |
| 34 | Hell Creek azhdarchid MPM 8075 |                      4.2 |
| 33 | Saratov Azhdarchid |                      4.3 |
| 32 | DPP medium azdarchid (TMP 1992.83.4; |                      4.5 |
| 31 | aff. Quetzalcoatlus |                      4.6 |
| 30 | Pteranodon longiceps |                      4.9 |
| 29 | Tethydraco |                      5.0 |
| 28 | Dawndraco kanzai |                      5.0 |
| 27 | Phosphatodraco mauritanicus |                      5.0 |
| 26 | Quetzalcoatlus sp |                      5.0 |
| 25 | Jordanian azhdarchid |                      5.0 |
| 24 | Unnamed Transylvanian Taxon |                      5.0 |
| 23 | Simurghia robustus |                      5.0 |
| 22 | Geosternbergia sternbergi |                      5.3 |
| 21 | La Solana azhdarchid |                      5.5 |
| 20 | YPM-PU 16619 |                      5.7 |
| 19 | Volgadraco bogolubovi |                      5.7 |
| 18 | Javelina azhdarchid TMM 42489 |                      5.8 |
| 17 | Merchantville pteranodontid |                      5.9 |
| 16 | Two Medicine azhdarchid (YPM-PU 22446) |                      5.9 |
| 15 | Aralazhdarcho bostobensis |                      6.3 |
| 14 | DPP  large azhdarchid (1992.83.01, wing metacarpal) |                      6.6 |
| 13 | Hokkaido pteranodontid |                      6.8 |
| 12 | Pteranodon longiceps |                      6.9 |
| 11 | DPP large azhdarchid (TMP 1989.36.254, cervical) |                      7.4 |
| 10 | Merignon azhdarchid |                      8.5 |
| 9 | Sidi Chennane Giant |                      9.0 |
| 8 | Hell Creek Azhdarchid |                      9.8 |
| 7 | Transylvania giant azhdarchid |                    10.0 |
| 6 | Quetzalcoatlus northropi |                    10.1 |
| 5 | Hatzegopteryx thambema |                    10.5 |
| 4 | Top Bozes Formation/ Petresti Giant Azhdarchid |                    10.5 |
| 3 | Sebes Formation / Rapa Rosie azhdarchid |                    10.5 |
| 2 | Nemegt Azhdarchid |                    11.0 |
| 1 | Arambourgiania philadelphiae |                    12.5 |
 The oldest statement (2015 AD)

Arambourgiania philadelphiae 7–13 m (23–43 ft)
Hatzegopteryx thambema 10–11 m (33–36 ft)
Quetzalcoatlus northropi 10–11 m (33–36 ft)
Undescribed specimen from Mongolia 10 m (33 ft)
Undescribed specimen UNCUYO-LD 350 9.1 m (30 ft)
Tropeognathus mesembrinus 8.2 m (27 ft)
Geosternbergia maysei 7.25 m (24 ft)
Coloborhynchus capito 7 m (23 ft)
Moganopterus zhuiana 7 m (23 ft)
Pteranodon longiceps 6.25 m (20.5 ft)
Tupuxuara longicristatus 6 m (20 ft)
Santanadactylus araripensis 5.7 m (19 ft)
Cearadactylus atrox 5.5 m (18 ft)
Caulkicephalus trimicrodon 5 m (16 ft)
Istiodactylus latidens 5 m (16 ft)
Lacusovagus magnificens 5 m (16 ft)
Liaoningopterus gui 5 m (16 ft)
Phosphatodraco mauritanicus 5 m (16 ft)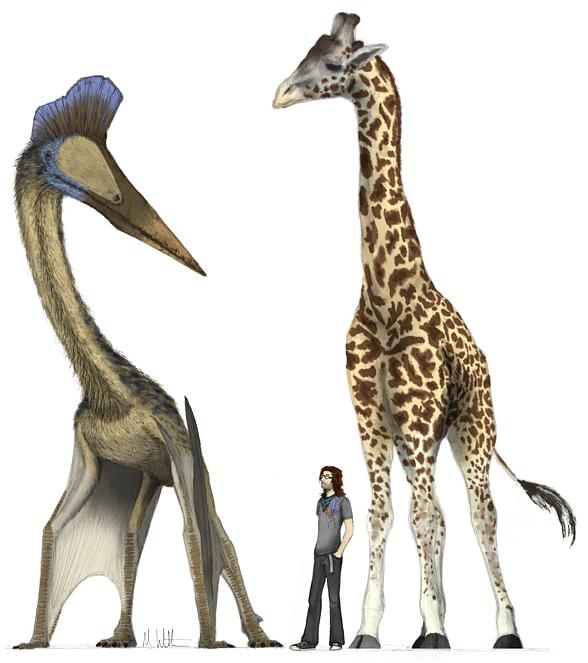 Recommended