The speed of animals – mammals Top 10
Everyone probably knows that the fastest mammal is the cheetah. Which mammal takes pride of the second place? That you probably don't know 🙂 In the table below we present nearly 100 of the world's fastest mammals. You will find there running, swimming and… flying mammals.
A table containing list of over 130 of the world's fastest animals (mammals, reptiles, birds, fish, insects, etc.) can be found in the article: The fastest animals Top 10.
A separate statement was dedicated the fastest birds in the world: The fastest birds Top 10.
The fastest mammals – Top 10
chart speed [km/h]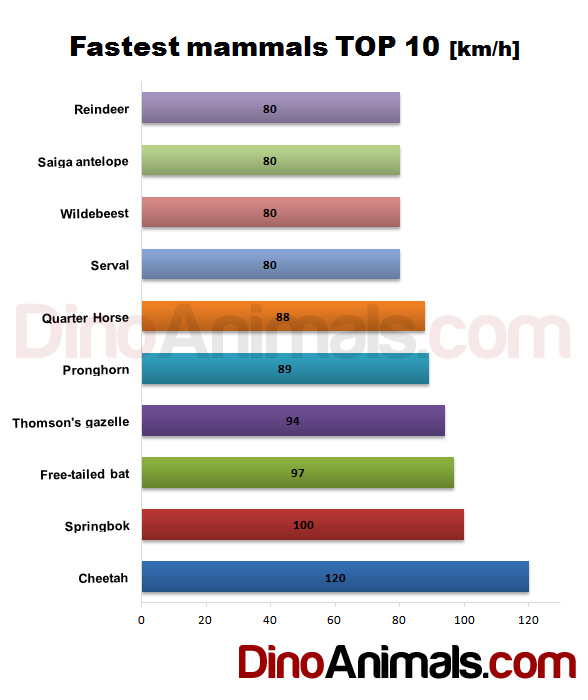 ---
The fastest mammals – Top 100
| | | | | |
| --- | --- | --- | --- | --- |
| No | Animal | Top Speed [km/h] | Top speed [mph] | Where |
| 1 | Cheetah (Acinonyx jubatus) |                  120 |                  75 | land |
| 2 | Springbok (Antidorcas marsupialis) |                  100 |                  62 | land |
| 3 | Free-tailed bat |                   97 |                  60 | air |
| 4 | Thomson's gazelle (Eudorcas thomsonii) |                   94 |                  59 | land |
| 5 | Pronghorn (Antilocapra americana) |                   89 |                  55 | land |
| 6 | Quarter Horse |                   88 |                  55 | land |
| 7 | Serval (Leptailurus serval) |                   80 |                  50 | land |
| 8 | Wildebeest (Connochaetes) |                   80 |                  50 | land |
| 9 | Saiga antelope (Saiga tatarica) |                   80 |                  50 | land |
| 10 | Reindeer (Rangifer tarandus) |                   80 |                  50 | land |
| 11 | Caracal (Caracal caracal) |                   80 |                  50 | land |
| 12 | Cougar (Puma concolor) |                   80 |                  50 | land |
| 13 | Blackbuck (Antilope cervicapra) |                   80 |                  50 | land |
| 14 | Hare |                   80 |                  50 | land |
| 15 | Maned wolf (Chrysocyon brachyurus) |                   76 |                  47 | land |
| 16 | Virginia deer (Odocoileus virginianus) |                   75 |                  47 | land |
| 17 | Dog Greyhound |                   74 |                  46 | land |
| 18 | Black-tailed jackrabbit (Lepus californicus) |                   72 |                  45 | land |
| 19 | Elk, Wapiti (Cervus canadensis) |                   72 |                  45 | land |
| 20 | African wild dog (Lycaon pictus) |                   71 |                  44 | land |
| 21 | Kangaroo (Macropus) |                   70 |                  44 | land |
| 22 | Gray wolf (Canis lupus) |                   70 |                  44 | land |
| 23 | Onager (Equus hemionus) |                   69 |                  43 | land |
| 24 | Coyote (C. latrans) |                   69 |                  43 | land |
| 25 | Gray fox (Urocyon cinereoargenteus) |                   68 |                  42 | land |
| 26 | Bengal tiger (Panthera tigris tigris) |                   65 |                  40 | land |
| 27 | Jaguar (Panthera onca) |                   65 |                  40 | land |
| 28 | Common dolphin |                   65 |                  40 | water |
| 29 | Zebra (Equus) |                   65 |                  40 | land |
| 30 | Camel (Camelus) |                   65 |                  40 | land |
| 31 | Clouded leopard (Neofelis nebulosa) |                   64 |                  40 | land |
| 32 | Eurasian lynx (Lynx lynx) |                   64 |                  40 | land |
| 33 | Mongolian wild ass (Equus hemionus hemionus) |                   64 |                  40 | land |
| 34 | Donkey/ass (Equus africanus asinus) |                   64 |                  40 | land |
| 35 | Ocelot (Leopardus pardalis) |                   61 |                  38 | land |
| 36 | Hyena |                   60 |                  37 | land |
| 37 | Giraffe (Giraffa camelopardalis) |                   60 |                  37 | land |
| 38 | Lion (Panthera leo) |                   60 |                  37 | land |
| 39 | Amur leopard |                   60 |                  37 | land |
| 40 | Leopard (Panthera pardus) |                   58 |                  36 | land |
| 41 | Jackal |                   57 |                  35 | land |
| 42 | Common rabbit (Oryctolagus cuniculus) |                   57 |                  35 | land |
| 43 | Okapi (Okapia johnstoni) |                   56 |                  35 | land |
| 44 | Snow leopard (Uncia uncia) |                   56 |                  35 | land |
| 45 | Dog Whippet |                   56 |                  35 | land |
| 46 | American bison (Bison bison) |                   56 |                  35 | land |
| 47 | Wild boar (Sus scrofa) |                   56 |                  35 | land |
| 48 | Killer whale/orca (Orcinus orca) |                   56 |                  35 | water |
| 49 | Dall's porpoise (Phocoenoides dalli) |                   55 |                  34 | water |
| 50 | Moose (Alces alces) |                   55 |                  34 | land |
| 51 | Bobcat (Lynx rufus) |                   55 |                  34 | land |
| 52 | Red fox (Vulpes vulpes) |                   50 |                  31 | land |
| 53 | Grizzly bear (Ursus arctos) |                   48 |                  30 | land |
| 54 | Common warthog (Phacochoerus africanus) |                   48 |                  30 | land |
| 55 | Domestic cat (Felis catus) |                   48 |                  30 | land |
| 56 | White Rhinoceros (Ceratotherium simum) |                   48 |                  30 | land |
| 57 | Hippopotamus (Hippopotamus amphibius) |                   48 |                  30 | land |
| 58 | Tapir |                   48 |                  30 | land |
| 59 | Blue whale |                   48 |                  30 | water |
| 60 | Llama (Lama glama) |                   45 |                  28 | land |
| 61 | Human |               44.72 |             27.79 | land |
| 62 | African elephant (Loxodonta africana) |                   40 |                  25 | land |
| 63 | Chimpanzee |                   40 |                  25 | land |
| 64 | Gorilla |                   40 |                  25 | land |
| 65 | California Sea Lion (Zalophus californianus) |                   40 |                  25 | water |
| 66 | Leopard seal (Hydrurga leptonyx) |                   39 |                  24 | water |
| 67 | Red panda (Ailurus fulgens) |                   38 |                  24 | land |
| 68 | Brown Bear (Ursus arctos) |                   35 |                  22 | land |
| 69 | Walrus (Odobenus rosmarus) |                   35 |                  22 | water |
| 70 | Chipmunk |                   33 |                  21 | land |
| 71 | Gray Squirrel (Sciurius carolinensis) |                   32 |                  20 | land |
| 72 | Mongoose |                   32 |                  20 | land |
| 73 | Humpback whale (Megaptera novaeangliae) |                   30 |                  19 | water |
| 74 | Polar bear (Ursus maritimus) |                   30 |                  19 | land |
| 75 | Giant panda (Ailuropoda melanoleuca) |                   30 |                  19 | land |
| 76 | Honey badger (Mellivora capensis) |                   30 |                  19 | land |
| 77 | Squirrel |                   25 |                  16 | land |
| 78 | Mule |                   24 |                  15 | land |
| 79 | Asian Elephant (Elephas maximus) |                   24 |                  15 | land |
| 80 | Raccoon (Procyon lotor) |                   24 |                  15 | land |
| 81 | Beluga, white whale (Delphinapterus leucas) |                   22 |                  14 | water |
| 82 | Lemur katta (Lemur catta) |                   19 |                  12 | land |
| 83 | Elephant Seal |                   19 |                  12 | water |
| 84 | Pig (domestic) |                   18 |                  11 | land |
| 85 | Domestic goat (Capra aegagrus hircus) |                   17 |                  10 | land |
| 86 | Chicken |                   14 |                    9 | land |
| 87 | House mouse |                   13 |                    8 | land |
| 88 | Rat |                   13 |                    8 | land |
| 89 | Koala (Phascolarctos cinereus) |                   10 |                    6 | land |
| 90 | Sea otter (Enhydra lutris) |                     9 |                    5 | water |
| 91 | Sloth |                  1.9 |                 1.2 | land |
---
The fastest mammals – Top 10
chart speed [mph]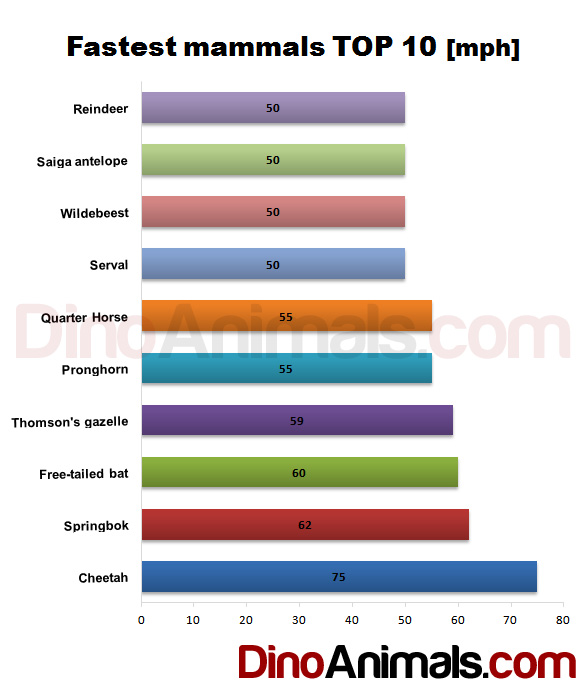 Recommended