Fiordland National Park – New Zealand's land of fjords
Rain is an almost constant visitor here, as are rare exotic birds. Vast lakes, dark mountain peaks and dense forests paint before your eyes a land of peace and harmony. Certainly, Fiordland National Park is not as busy as, for example, Yellowstone, where the earth shakes and hot underground waters are thrown away with great force. Fiordland National Park is a combination of majestic mountains with quiet lakes and deep bays. It is also, or rather above all, the land of fjords. Created from complementary extremes, the landscape is an ideal place for people looking for peace rather than extreme experiences.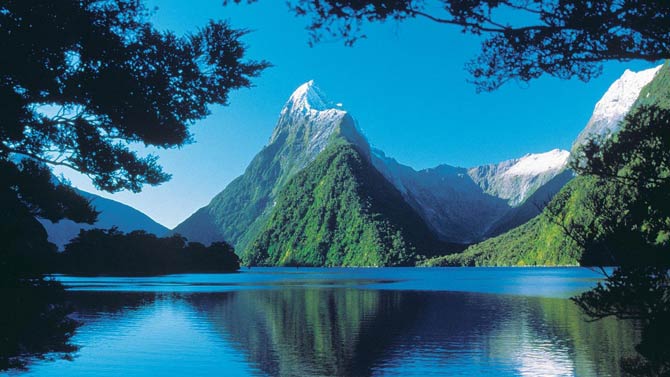 Basic data
The park is located on the South Island, which is a "component" of New Zealand. It is situated on the south-west coast, as if in the corner of the island.
Fiordland National Park covers 12 607 km2 (4,868 sq mi). This makes it the largest national park in the country.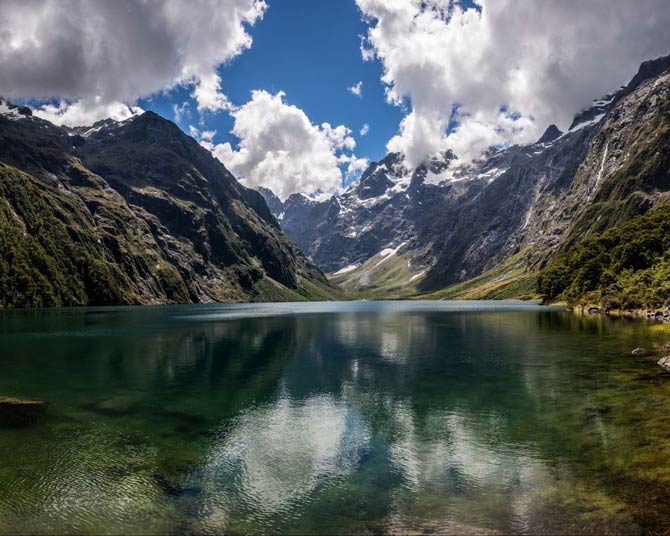 Establishment of the park
Officially, the Fiordland National Park was established in 1952, when the National Parks Act was passed in New Zealand. However, as early as 1904, then Prime Minister Thomas Mackenzi and John Hay demanded that the Fiordland Nature Reserve be declared a national park. Certainly, the gentlemen noticed the natural values of this region, and also understood that numerous threats to the natural ecosystem of New Zealand could destroy it soon.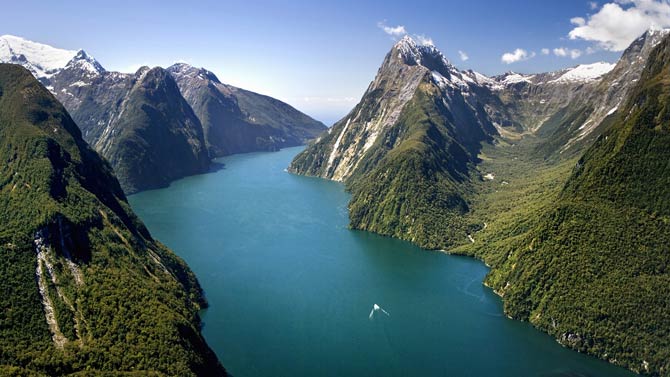 The land of fjords – Fiordland
The name of the national park shows the topography. The Fiordland National Park is famous for its deeply carved fjords. What is a fjord? It can be said to be a kind of deep bay. The fjords were formed during the glacial or post-glacial period. We associate this form of land relief mainly with Scandinavia. As you can see, however, fjords are the hallmark of much more exotic lands.
The largest, most famous and most visited fjord in the Park is Milford Sound. Rudyard Kipling hailed it as the "Eighth Wonder of the World" and it is no wonder. The New Zealand fjords are incredibly picturesque and monumental, and swimming between them helps you experience deep spiritual impressions.
Dusky Sound and Doubtful Sound are also very popular. There are a total of 15 fjords in the Fiordland National Park.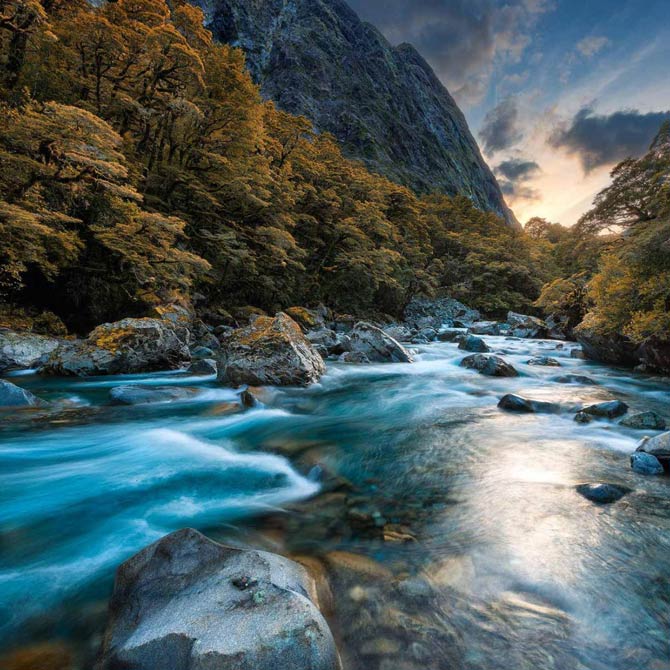 Miter Peak
Located near Milford Sound, Miter Peak is considered one of New Zealand's most popular mountains. It reaches a height of almost 1700 m above sea level. Due to its structure, it is very difficult to climb. Nevertheless, some daredevils are trying their hand at confronting this beautiful and steep peak.
The name Miter Peak is related to the miter (mitre) – the headdress of Christian clergymen (bishops, cardinals, etc.). Looking at this mountain, you can see that it does indeed resemble a miter. The Maoris, on the other hand, named this peak Rahotu.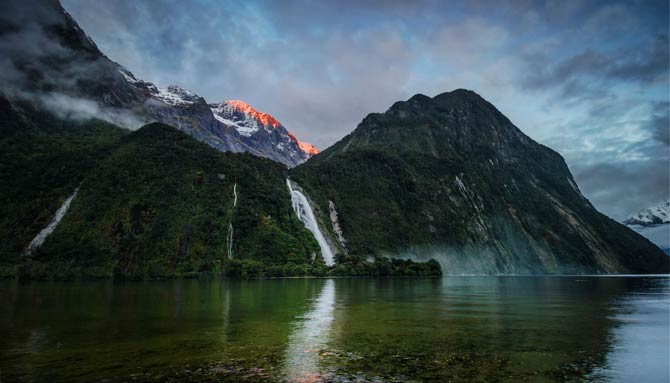 Kilometers of trails, cruises under waterfalls
Wanderers will find a piece of personal heaven here. The Fiordland National Park offers them three great routes, so-called New Zealand's Great Walks: Milford Track, Kepler Track and Routeburn Track. It is not hard to guess that the most popular is the Milford Track. It is 53.5 km (33.2 mi) long, starts in Te Anau and offers breathtaking views.
We can admire the lakes, as well as the vast valleys leading to one of the highest waterfalls in New Zealand – Sutherland Falls, which is 580 meters (1,904 feet) high. There are several high and impressive waterfalls in the Fiordland National Park, such as Bowen Falls, Browne Falls and Humboldt Falls.
Water lovers can go on a cruise on the lakes. Tourists swim between fjords and under waterfalls (such as Bowen Falls), experiencing a natural bathing experience. Visitors can also use canoes, airplanes and helicopters. Fiordland reservoirs are perfect for divers to explore.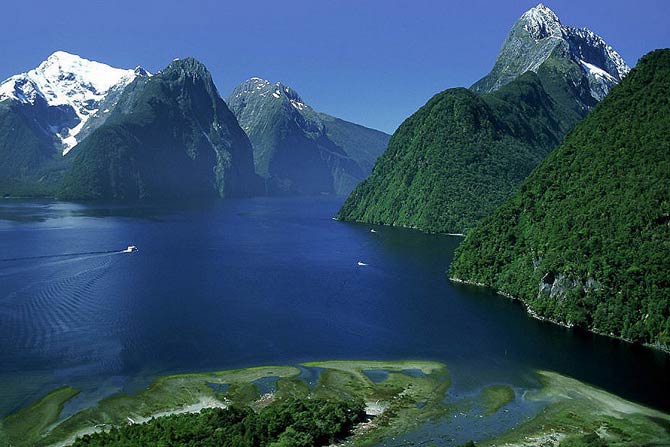 Fauna and Flora
Fiordland is perhaps the largest area of original (not modified by man) vegetation in New Zealand. We are stunned by dense beech forests, often growing on the steep slopes of beautiful mountains. These forests are dominated by silver beech, mountain beech and podocarps. In addition to trees, we admire countless shrubs and clumps of ferns. The forest floor is covered with mosses. The rich vegetation is due to the weather conditions – Fiordland is in an area where rainfall is frequent. Unfortunately, a few animal species (red deer and possum) contribute to the destruction of the natural flora.
Among the diverse vegetation, we meet many species of animals, including endemics, such as the endangered kakapo (the world's only flightless parrot), a beautifully colored flightless bird – the South Island takahē – or the yellowhead (mōhua) – the sparrow's yellow cousin. Other landmarks of the Fiordland National Park are: the Southern brown kiwi and the Fiordland penguin (Eudyptes pachyrhynchus).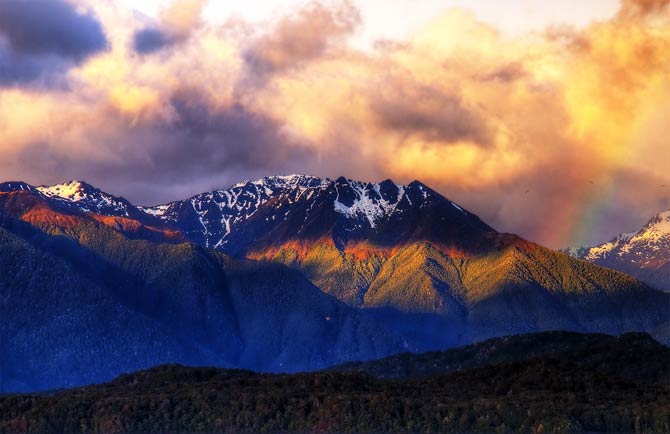 Sanctuaries
We don't mean churches, but places where endangered species of plants and animals can live peacefully. Several such sanctuaries have been established within the Fiordland National Park; they include adjacent islands, including Anchor Island (home to the kakapo, among others), Coal Island (Southern brown kiwi asylum) or Resolution Island (shelter for mōhua and Hadramphus tuberculatus species). In total, there are about 10 islands – sanctuaries belonging to the Fiordland National Park.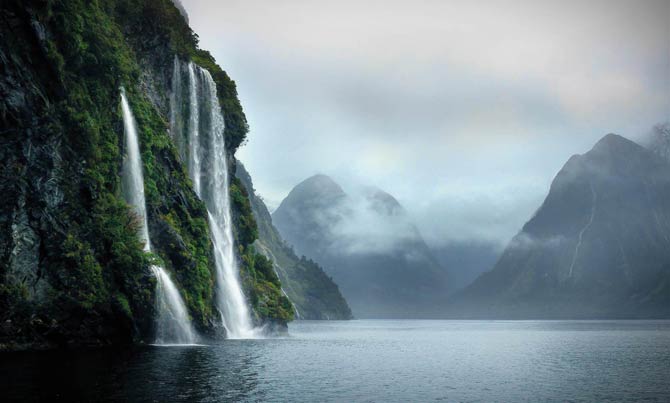 Detailed data
Fiordland National Park
Total area: 12,607 km2 (4,868 sq mi)
Established in: as a reserve – 1904, as a national park – 1952
Main attractions:

15 fjords
Lakes and rivers, such as Lake Te Anau
Long and picturesque hiking trails
Admiring rare species of plants and animals

Records:

New Zealand's largest national park
The longest fjords: Doubtful Sound and Dusky Sound – 40 km (24 mi) each
Fjords with the largest area: Doubtful Sound – 80 km2 (31 mi²) and Breaksea Sound – 50 km2 (19mi²)
The highest waterfalls in New Zealand and the world:

Browne Falls – 619 (2031 ft) or 836 m (2743 ft)
Sutherland Falls – 580 m (1903 ft)
Lady Alice Falls – up to 280 m (919 ft)
Humboldt Falls – 134 m (440 ft)

The most popular fjord – Milford Sound
New Zealand's second-largest lake (by area): Te Anau – 344 km2 (133 sq mi).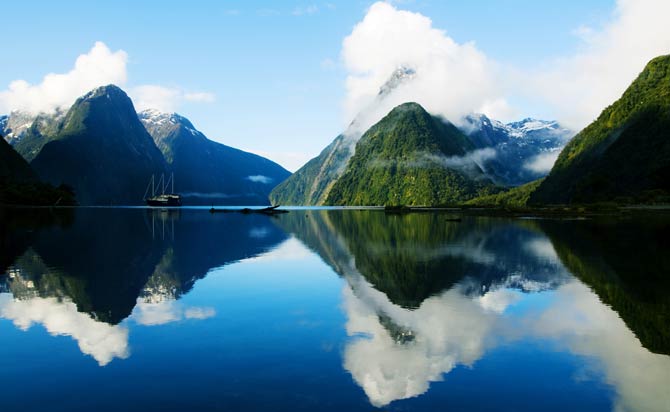 Fiordland National Park – interesting facts
Fiordland National Park is within the Te Wāhipounamu Nature Reserve. It also includes 3 national parks: Aoraki / Mt Cook, Mt Aspiring and Westland.
Fiordland National Park is the most popular national park in the country. Every year it is visited by over half a million tourists from all over the world. Most of them are concentrated almost exclusively in the north-eastern part of the park – from Te Anau to Milford Sound.
Te Anau is the name of both the lake and the city located in Fiordland National Park.
Miter Peak is one of the most photographed peaks in the country.
In Fiordland National Park, hunters hunt deer with… helicopters. Deer are an alien species that destroys the original nature of the island. As cruel as it sounds, hunters regularly "exterminate" these animals so that the natural ecosystem is not disturbed. Deer and common brushtail possums are "bombarded" with large amounts of pesticides (mainly sodium fluoroacetate), although the public strongly opposes this method.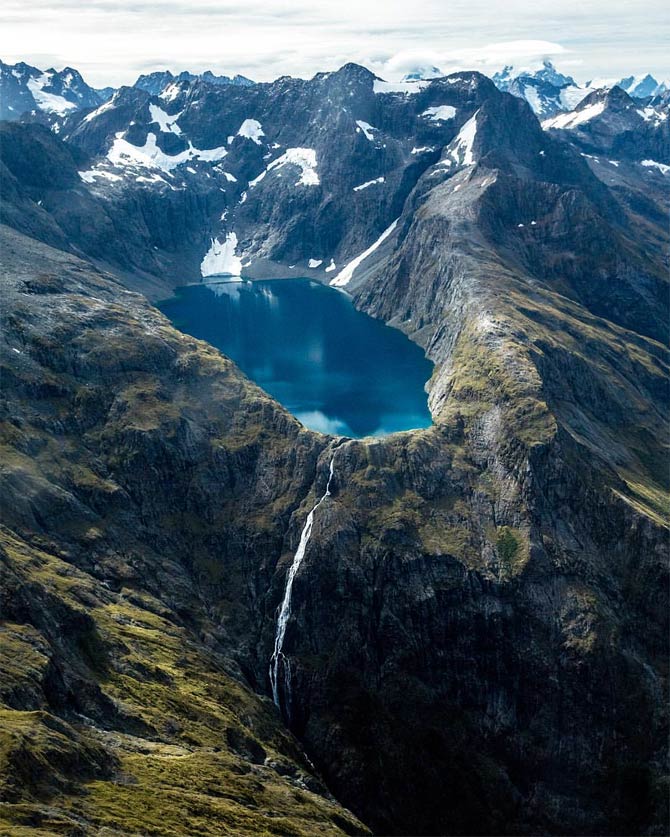 Recommended