Afghan Hound
Often called the king of dogs because of its dignified, majestic appearance and way of moving. Underneath this elegant exterior, however, hides a persistent hunter, an intelligent companion and one of the oldest breeds, helping people in their daily lives. Although the Afghan Hound seems delicate, it is great in nature, especially in the open. What else will Afghan Hound surprise us with?
FCI-classification
Group 10 Sighthounds
Section 1 Long-haired or fringed sighthounds
Without working trial
Other names: Tāzī, Balkh Hound, Baluchi Hound, Barakzai Hound, Shalgar Hound, Kabul Hound, Galanday Hound, African Hound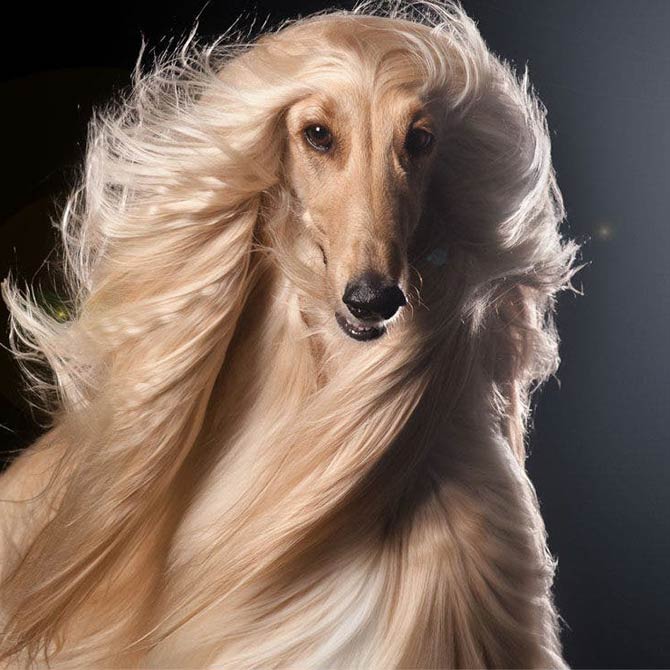 History and origin of the breed
The Afghan Hound is one of the oldest known breeds and has been classified as primal breeds. This means that the Afghan genes are closer to wolves than other breeds.
It probably comes from Sinai, is mentioned several times by Egyptian papyri, it also appears in cave paintings from northern Afghanistan. These paintings are approx. 4,000 years old. For centuries, the breed was kept in genetic purity and its exportation was prohibited. For this reason, it appeared in Europe late (and not entirely legally), at the beginning of the 20th century.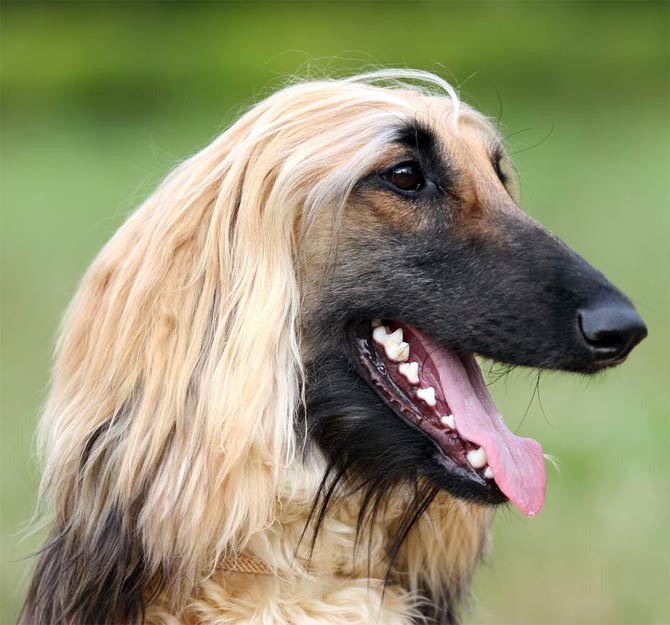 Modern Afghan Hounds
Today's Afghan Hounds are derived from dogs brought to Great Britain in 1920, where many varieties of long-haired sighthounds from all over Afghanistan and the surrounding area were mixed into the modern Afghan Hound breed.
Working breed
It performed many important jobs, mainly shepherding, guarding and hunting chamois, deer, wolves and even snow leopards. The thick hair protected him from very low temperatures.
Luxurious companion dog
Although it was regarded as a working animal, its aristocratic beauty was appreciated in Europe and America, which is why it acted as a luxurious companion dog. Even so, its talents are still used in dog racing.
The famous Zardin
One of the most unique Afghans was a dog named Zardin, which Captain Bariff brought from India in 1907. It was considered the model type of dogs then called Persian Greyhounds. Therefore, Zardin contributed to the creation of the first Afghan breed standard in 1912. Due to the outbreak of World War I, however, the breeding was stopped.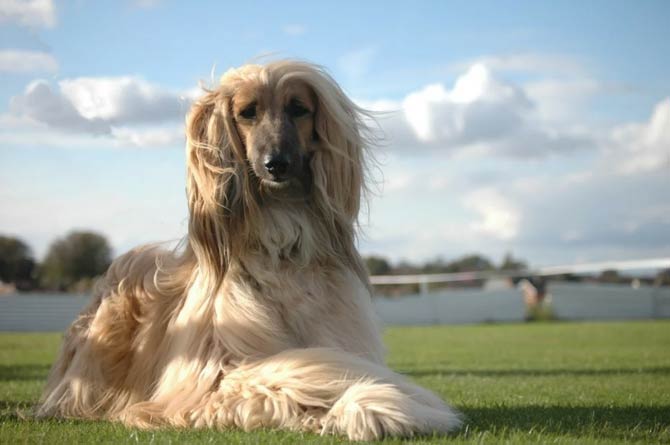 Characteristic
Appearance
The dog is tall, light and very slender. The silhouette is covered with long, beautiful fur, which according to international classifications can have any color. On top of the head there is a long hair, and the muzzle is covered with short hair. Many individuals have a black mask or hair resembling the so-called Fu Manchu mustache (rising from the corner of the mouth, hanging loosely).
Some Afghan Hounds are completely white, but individuals with only white accents are considered genetically impure. The hair itself is long, thin and straight, so it needs a lot of care to keep it looking beautiful. Characteristic of an Afghan is short hair on the back (saddle), and long hair on the sides of the body and legs.
The relatively long tail, set low, forming a ring at the end is also unique. The eyes are located obliquely, they have a triangular shape, and the iris can be dark brown or golden. The ears are covered with silky, long hair, located low, close to the back of the head.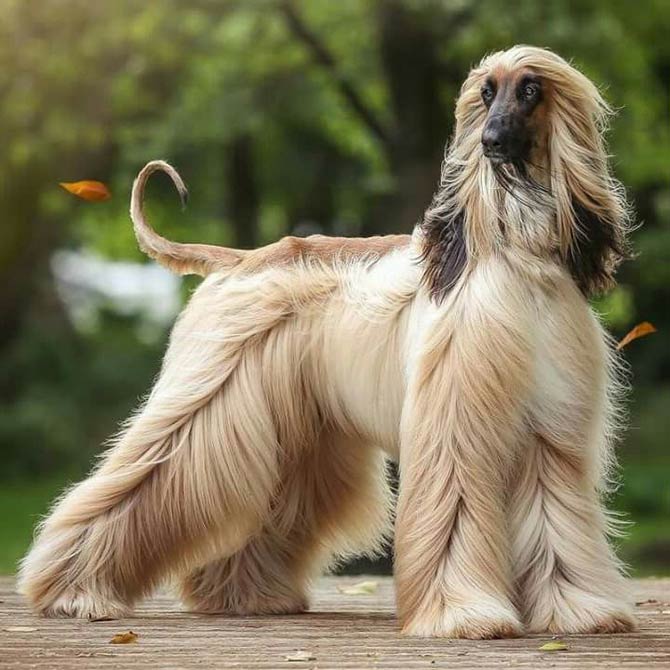 Temperament
The Afghan Hound is a dignified, dynamic, charming dog, but also faithful, affectionate, courageous and loving. There is no need to dominate a man or another animal, on the contrary – sometimes it prefers to be aloof. However, this does not prevent it from making contact with beloved people. It prefers to keep its distance with strangers, but is not hostile.
Although this dog has a distinct personality, without a gentle, wise owner with leadership qualities, it will feel bad. However, proper training has a beneficial effect on it, if it is done in a calm but consistent manner. A well-mannered Afghan Hound will find a common language with the elderly and children.
While it is amenable to training, it can become disobedient if the owner does not give it clear guidelines. It requires a lot of attention and frequent walks where it can run around. If it does not get it, it will become withdrawn or nervous. Afghan Hound, therefore, is not suitable for living in the middle of the city.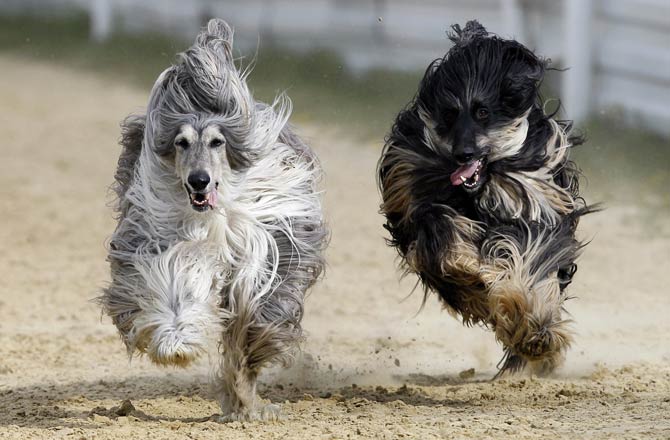 Perfect place for Afghan Hounds
A house with a large garden or a village can be an ideal place. Since its hunting tactic is based on its eyesight, the dog reacts strongly to movement. While living with a cat, it can chase it frequently, so it is not recommended that an Afghan Hound live with smaller pets.
When walking on a leash, the dog needs to know who the leader is. Therefore, it cannot drag the owner, but walk alongside his foot. It should also be taught to enter the house after a person. It can be taught as long as it can be reached.
Necessary activity
Exercise is like air for an Afghan Hound. Without daily long walks and mental stimulation, the dog becomes lazy or becomes problematic. Even though she is very fond of space, she prefers to sleep at home with family members.
Health condition
The main health problems of Afghans are cancer, allergies, and hip dysplasia. In addition, they show high sensitivity to anesthetic drugs; it is influenced by the low level of body fat.
Afghan Hounds are also included in the breeds that are susceptible to a rare disease called chylothorax, which causes lymph (tissue fluid) in the pleural cavity. This disease often leads to lung damage requiring immediate surgery. If left untreated, chylothorax can cause pleurisy or the formation of scar tissue around the lungs. The occurrence of this disease in Afghan Hounds is influenced by the barrel shape of the chest.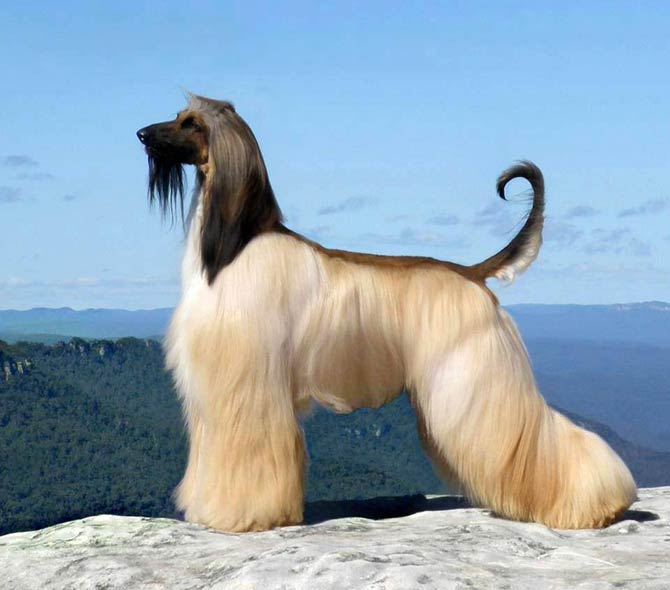 Detailed data and dimensions (size)
Afghan Hound
Height at the withers:

Males 68-74 cm (27 – 29 in)
Females 63-69 cm (25 – 27 in)

Weight: 22-34 kg (48.5 – 75 lb)
Lifespan: 12-14 years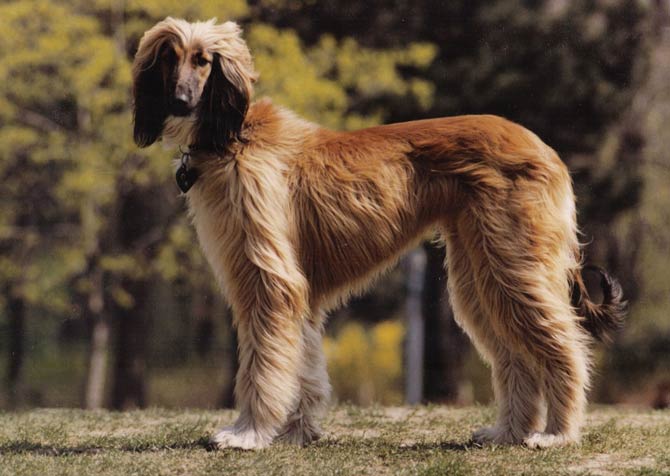 Afghan Hound – interesting facts
There are at least 13 types of Afghan Greyhound in Afghanistan.
Nowadays, Afghan Hound is no longer used for hunting, but it works well in greyhound racing with the use of a dummy fleeing animal.
The Afghan Hound appeared, among others in Disney's animated films "101 Dalmatians" and "102 Dalmatians". In these films, the Afghan Hound was one of Cruella de Vil's favorites.
The Afghan variety of this greyhound is called Khalag Tazi. It was one of the varieties introduced to Europe in 1920. The term Tazi was used generally in the Middle East to refer to hunting dogs in the type of greyhound. Therefore, Tazi was called a Persian greyhound and a Kyrgyz greyhound.
On August 3, 2005, Korean scientist Hwang Woo-Suk announced that his research team was the first in the world to successfully clone a dog. It was an Afghan Hound named Snuppy. The scientist's boasting turned out to be true, and Snuppy became the first-ever cloned dog.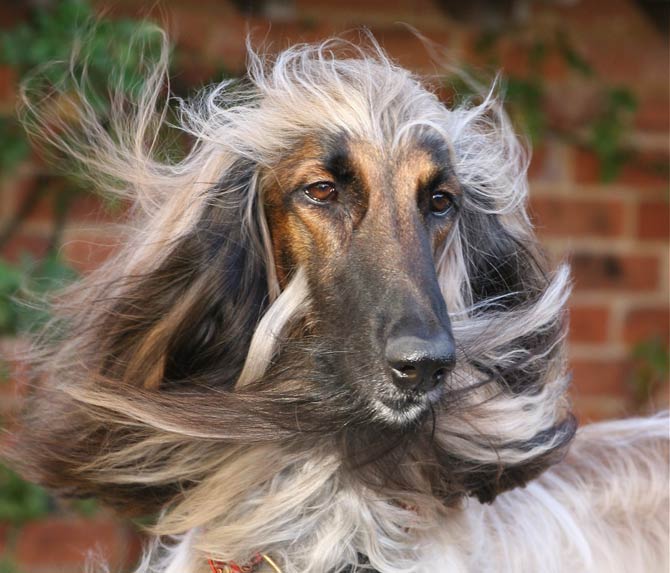 Recommended