Grand Teton National Park
It is a clear spring morning. You feel the sun's warm rays on your skin, but the sight of the Teton Range's snow-covered sharp peaks, where remnants of glaciers still remain, makes you feel chilly. From a distance, you observe a herd of dignified buffaloes grazing peacefully in a vast meadow at the foot of the mountain. You are in the Jackson Hole Valley in Grand Teton National Park, just 16 kilometers (10 mi) from the world-famous Yellowstone National Park.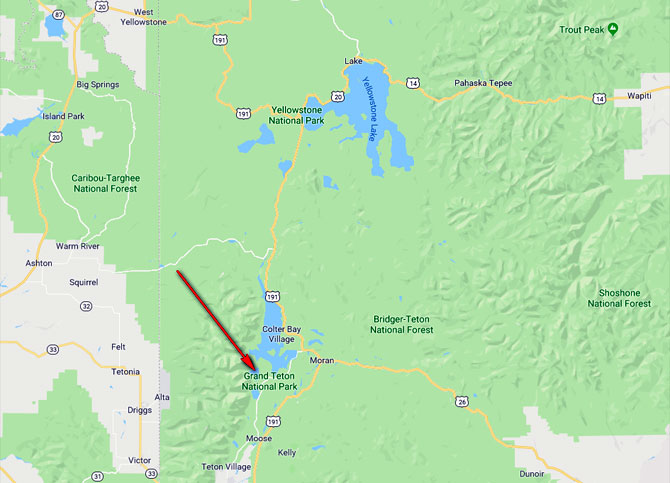 Location
Grand Teton National Park is located in the northwest of Wyoming, in the United States. It covers an area of 1,300 km² (310,000 acres) and together with Yellowstone National Park (connected by a road called John D. Rockefeller, Jr. Memorial Parkway), it is under the care of the National Park Service, which manages all national parks in the United States. It belongs to the Greater Yellowstone Ecosystem – one of the last untouched earth ecosystems.
Grand Teton National Park is named after the Grand Teton Mountain, the highest peak in the Teton Range.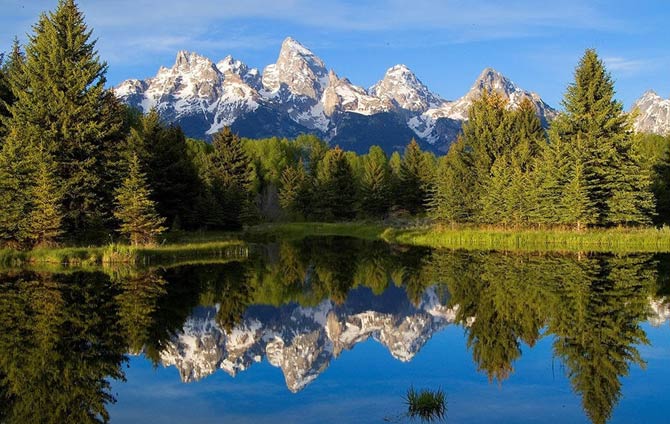 Some history
The history of the park dates back to the early twentieth century and is related to efforts to protect against interference in the land's water resources. Yellowstone National Park authorities, concerned about the increasingly aggressive policies of dam construction companies in the surrounding rivers and lakes, decided to protect these territories, and on February 26, 1929, President Calvin Coolidge signed an ordinance establishing the creation of Grand Teton National Park.
The park was originally 39,000 hectares (96,000 acres) in size and encompassed the Teton Range and six lakes at its foot.
Speaking about the history of the Park, it is impossible not to mention the philanthropist John Davidson Rockefeller Junior, thanks to whose efforts Grand Teton significantly expanded its boundaries. It was also thanks to him that a national monument was created, an area of about 900 km² (347mi²) called Jackson Hole National Monument (which, admittedly, was liquidated, but most of its areas were included in the Park). The already mentioned road was named after Rockefeller.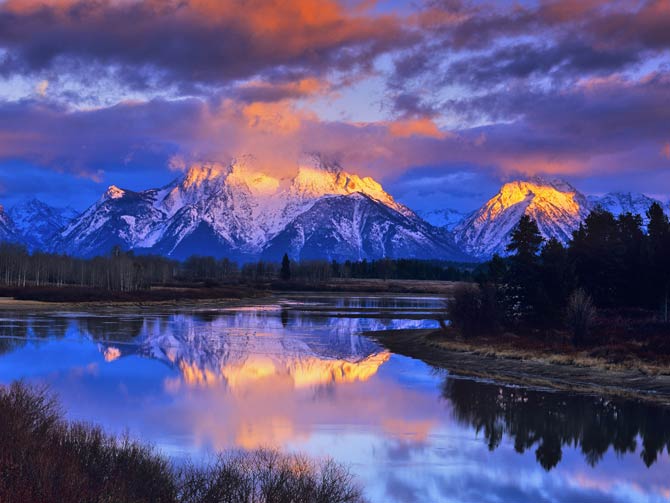 Mountains, valleys, forests, lakes and rivers
The landscape of Grand Teton National Park includes mountains, meadows, forests, wetlands, arid lands, and rivers and lakes. Even the most demanding tourists will find something for themselves here.
First of all, it is worth seeing Jackson Hole, an 89 km (55 mi) long and 10-21 km (6-13 mi) wide tectonic trench forming a picturesque valley.  The terraces beautifully carved by the Snake River flowing through it and numerous melting lakes, created in the place of postglacial depressions, provide unforgettable views.
The Teton Range itself is 64 kilometers long. The summit of Grand Teton is 4,199 meters (13,776 ft) high and rises majestically about 2,100 meters (6,890ft) above the Jackson Hole Valley. The second largest mountain in this range, Mount Owen, is 3,942 m (12,933ft) high.
The main lake of the Park is Jackson Lake (24 km (14.9 mi) long, 8 km (5 mi) wide and 134 m (440 ft) deep) through which the Snake River flows. Emma Matilda, Two Oceans Lake and seven other large lakes not only create the unique atmosphere of this area, but are also tourist attractions worth seeing.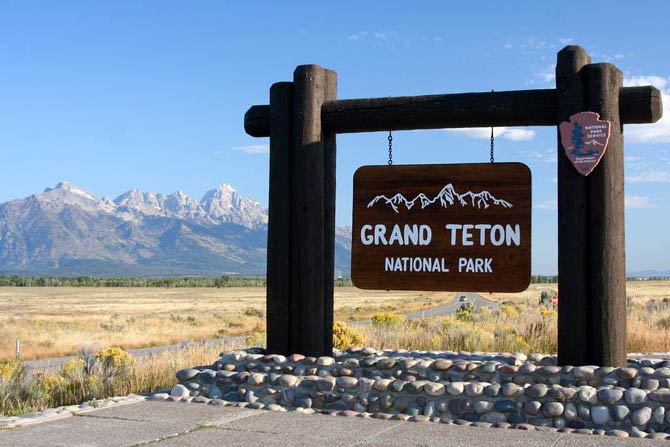 Fauna (animals) in Grand Teton National Park
61 species of mammals have found shelter in Grand Teton National Park. While strolling through these wild but beautiful terrains, you need to be on your guard against predators such as grizzly bears, black bear, Canada lynx, gray wolf (who came here from Yellowstone Park) and even puma. A patient tourist can also see a coyote, a Canadian otter, an American marten, an American badger or a wolverine.
These areas are also inhabited by other mammals, for example: yellow-bellied marmot,  least chipmunk, American muskrat, Canadian beaver, Uinta ground squirrel, American pika, snowshoe hare, porcupine, and bats.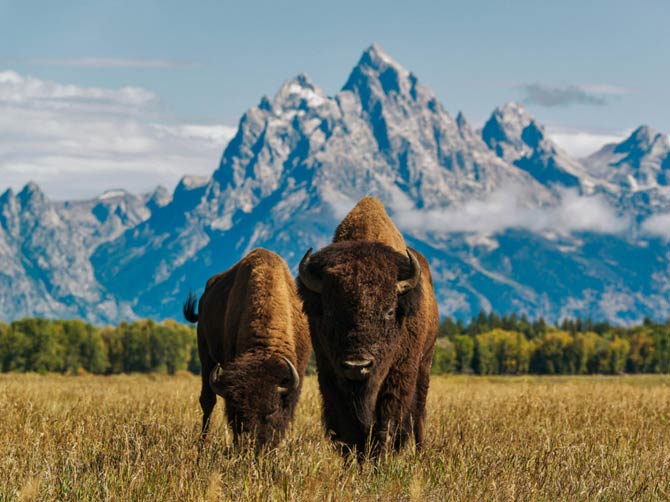 Large mammals
Visitors will undoubtedly be attracted to large mammals: moose (there are thousands of them here, they wander especially in spring and autumn), bison, pronghorn.
Birds
Tours of the Grand Teton National Park will certainly make the observation of over 300 species of birds more enjoyable, including the calliope hummingbird (one of the smaller species of hummingbirds and the smallest bird species in North America), trumpeter swans (the largest water bird),  blue-winged teal, common merganser, American wigeon.
The Teton Range is home to bald and golden eagles, common osprey, peregrine falcon, and red-tailed hawk, and the forests contain over 14 species of owls, including the great horned owl, boreal owl and great grey owl.
Other birds of prey also hunt here, such as the American kestrel. There are also numerous woodpeckers, warblers, plovers and gulls. Large water birds such as great blue heron, American white pelican, sandhill crane and whooping crane.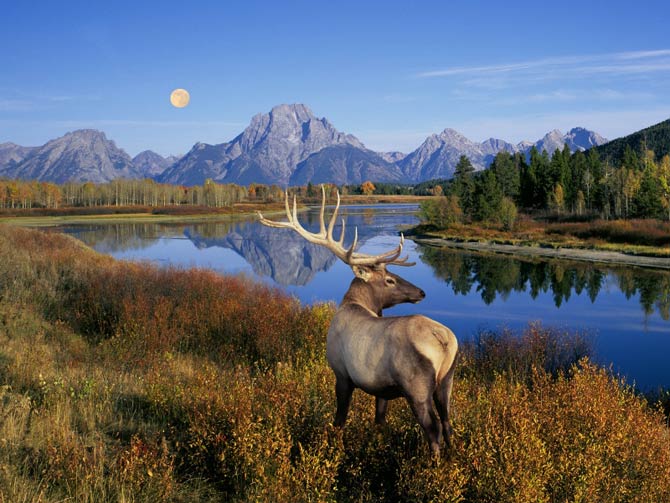 Fish
Among the fish living in the local waters, the native species of trout deserves attention – mountain whitefish, longnose dace, mountain sucker and non-native species include the Utah chub and Arctic grayling.
Reptiles
These areas are also inhabited by a few species of reptiles, including the wandering garter snake, Valley Gartersnake, rubber boa and lizards.
Amphibians
Among the amphibians, you can meet: Columbia spotted frog, boreal chorus frog, tiger salamander, rare boreal toad and northern leopard frog.
Insects
The world of insects living in the Park is very rich and the attention of tourists is attracted by beautiful butterflies and many species of beetles.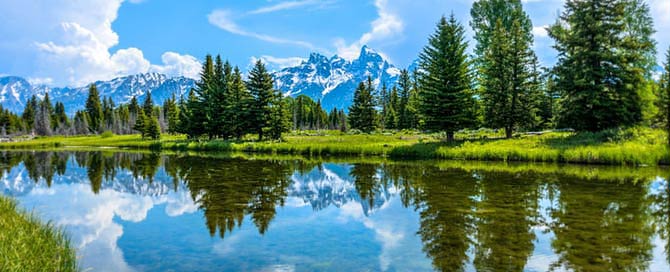 Flora (plants) in Grand Teton National Park
Trees, shrubs
The trees in the Grand Teton National Park are mainly conifers, including: whitebark pine (Latin Pinus albicaulis) – a native species of slow-growing, long-lived pine in danger of extinction, limber pine, subalpine fir, and Engelmann spruce, Rocky Mountain Douglas-fir, blue spruce.
Deciduous trees are mainly aspen and many species of willows.
There are numerous flowers and shrubs in the meadows. Picturesque landscapes are created by many native species of grass.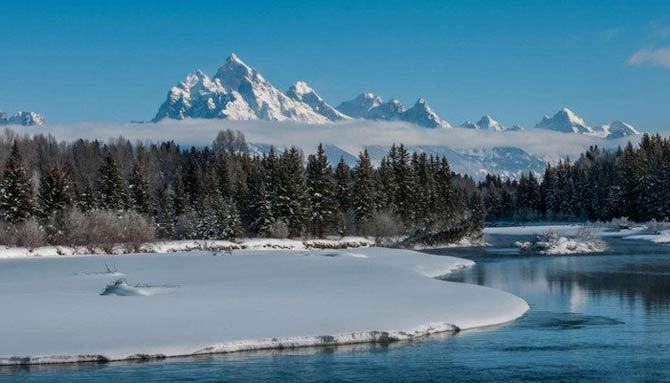 Tourism
It is impossible to get bored in Grand Teton National Park. We can choose from: mountain climbing and excursions, camping, safaris, kayaking, boat and ship cruises and seasonal winter sports.
Camps
There are over a thousand stops and camping places in the park, and the routes themselves are more than 320 km long.
Hiking
Tourists who like walking and climbing will want to see the Teton Fault near the base of Rockchuck Peak, which forms an almost horizontal line between the trees growing there. They will also be delighted to see the glacier on Middle Teton, which creates numerous, spectacular fissures and the black line of the geological structure of the Black Dike visible on the eastern side of this mountain.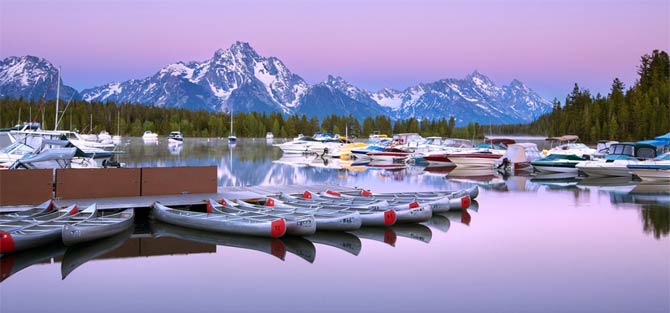 Sailing
Interesting proposals for active recreation can also be found in numerous marinas, for example, Wyoming Colter Bay Marina.
Tourist information
Visitors will also be interested in information points, such as the Craig Thomas Discovery & Visitors Center in Moose or Signal Mountain Lodge.
Accommodation
For those who want to relax, there are numerous bases, hotels and tourist centers scattered throughout the Park, e.g. Jackson Lake Lodge (a facility with 385 rooms, conference rooms, souvenir shops and a restaurant), Jenny Lake Lodge, Colter Bay Village or the atmospheric Grand Teton Climber's Ranch.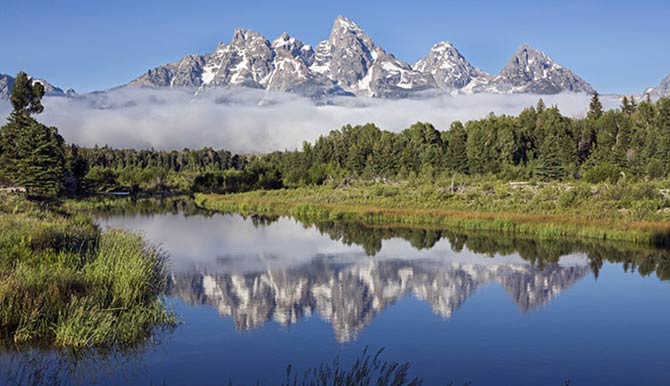 Detailed data
English name: Grand Teton National Park
French name: Parc national de Grand Teton
Area: 1,300 km² (502mi²)
Founded: February 26, 1929
Selected attractions
John Moulton Barn – Historic ranch home on Mormon Row
Hidden Falls, 30 meters high, near Jenny Lake
Jackson Lake Dam
Snow King Mountain Amusement Park in Jackson
Horizon Fine Art Gallery in Jackson
Jackson Hole Aerial Tram
Records
Grand Teton National Park is one of the most visited national parks in the US.
From 2007 to 2016, 2.75 million tourists visited this place annually, and in 2016 alone, Grand Teton hosted 3.75 million people.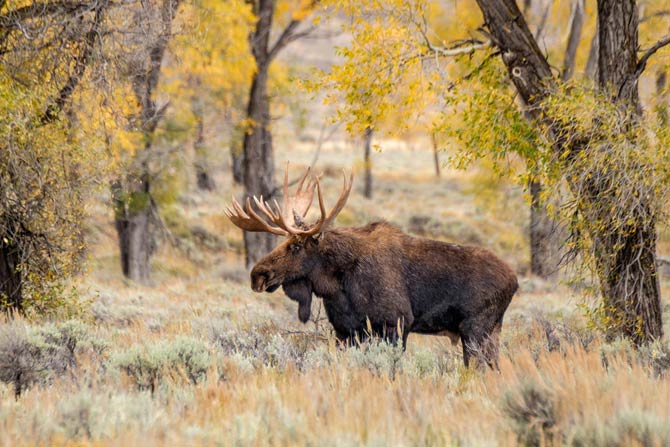 Interesting facts
While it is widely believed that forest fires destroy forests and animal habitats, this is not always the case. The Grand Teton National Park is home to dune pine, which covers only areas previously damaged by natural fires. Its cones open to release seeds only at very high temperatures caused by fire, and growing trees quickly provide the sterile soil with essential nutrients for the ecosystem.
Some of the rocks found in the Park are nearly 2.7 billion years old, making them the oldest stones found in all of the American National Parks.
The trembling poplars, growing in Teton Park, are connected by a network of roots and form a single organism. When fall comes, the leaves of all trees change color at the same time creating an extraordinary spectacle.
The pronghorn, native to Teton Grand National Park, is the fastest animal in the Western Hemisphere.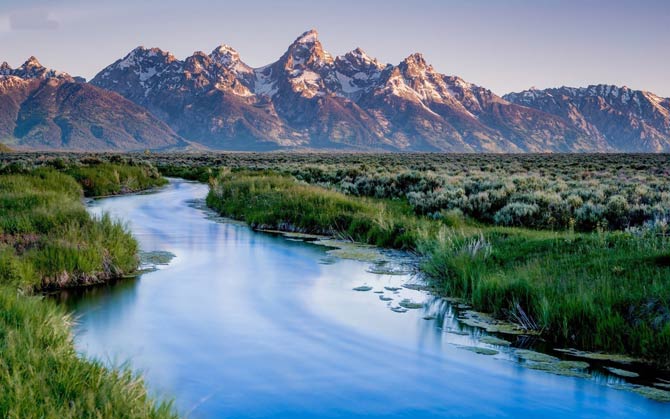 Recommended