Dinosaur: Tyrannosaurus rex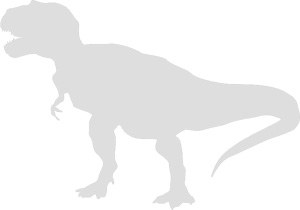 Type: Theropod
| | | |
| --- | --- | --- |
| Length*: | 12.5 m | 41.0 ft |
| Weight*: | 9.6 tons | 21,164 lb |
*The largest known specimen
ESR: 4 / 4 (estimated size reliability)
Epoch: Late Cretaceous
Stage: Latest Maastrichtian

Details
Status: valid
Autor: Osborn
Year: 1905
Area: North America
Country: USA, Canada
Region: Montana, Colorado, North Dakota, South Dakota, Wyoming, Alberta, Saskatchewan
Formation: Hell Creek, Lance, Ferris, Denver, Frenchman, Willow Creek, Scollard

Other
Material: At least more than 10 individuals (include skulls and almost complete skeletons).
References: Paul GS, Persons WS, Van Raalte J (2022). "The Tyrant Lizard King, Queen and Emperor: Multiple Lines of Morphological and Stratigraphic Evidence Support Subtle Evolution and Probable Speciation Within the North American Genus Tyrannosaurus".

________________________
If you are interested in Excel Professional version of the Dinosaur Database write to us.